Lebron Cries for Help
After a series of bad games in the month of January, the Cleveland Cavaliers' star Lebron James shared his concern for the team. Following a 122-124 defeat to the New Orleans Pelicans, he commented, "We need a ****ing playmaker."
Player, owner, coach, and general manager of the Cleveland Cavaliers' James is currently scouting the rest of the NBA for talented players to add to the team, despite having star players including himself, Kyrie Irving, Kevin Love, and Kyle Korver,
Experts say that the Cavaliers are likely to sign high school sophomore LaMelo Ball following his 92-point performance in a game on Feb. 6. James voiced his support for signing Ball despite his young age and high-pitched voice, and also wants to trade for New England Patriots star Tom Brady for his amazing passing ability.
"I think he can just use a football during the games and wear a helmet," James said. "I don't think there should be a problem transitioning over to the NBA."
Sources say that James is also looking for an expert flopper to be his successor when his time in the league is over. James is famous for his flopping ability and tendency to overreact to situations. The candidate rumored to be at the top of his list is Tom Hanks. He has won multiple Oscars and has been hailed for his acting ability, making him the perfect person to carry on James' flopping legacy.
Lebron also looked to the All-Star game in New Orleans for new players. Following DJ Khaled's impressive 3-point performance and ability to hold the ball during the Slam Dunk Contest, James commented, "His strength is when he makes one, he makes anotha one, and anotha one."
James' hunt for a new teammate will continue until he finds the perfect player that can carry him to another championship. If the search does not yield a superstar player, James has hinted that he will take his talents to the Golden State Warriors.
About the Writer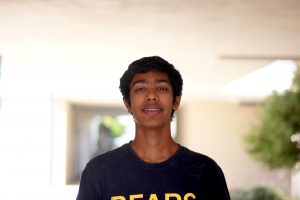 Sarvesh Mayilvahanan, Sports Editor
Sarvesh (11) is the sports editor for The Irvington Voice. He was a staff writer and sports apprentice during his sophomore year. This is his second year on staff. He follows many professional sports and talks to friends in his free time. His favorite part about journalism is dispelling rumors that students have. His favorite movie series is Star Wars and his favorite show is Psych.