A Taste of Taiwan: San Francisco hosts Taiwanese-American Culture Festival
Union Square, San Francisco, hosted its 25th annual Taiwanese American Cultural Festival on May 13, 2017. This cultural event drew over 10,000 people from all over the bay, and is the biggest Taiwanese cultural festival in the area. It featured many local Taiwanese performers and traditional Taiwanese food and activities.
Taiwan Bento served Taiwanese food, including braised pork with oolong tea egg, potstickers, mochi muffins, and shaved snow ice with boba. The prices were a bit more expensive in comparison to Fremont prices—ten dollars for a plate of braised pork and rice—but it was to be expected, as San Francisco events typically draw many tourists. The shaved ice was a popular menu item because it was a surprisingly hot day in May. There was also milk tea from Creative Sips, for sale with usual flavors like classic milk tea, and more unique flavors such as mint coffee brew.
The festival featured many performances, including one from Fremont Taiwan School (FTS). They performed a traditional Taiwanese dance; their striking yellow shirts moving in rhythm to traditional music. Eric Sho, a local rapper, also performed a few original raps as well as popular Chinese songs.
Senior Emily Hsiao, vice president of Irvington's Junior Taiwanese Association has been to this festival twice now.
"The performances were the best thing," said Hsiao. "It's a smaller festival, but if you stay for all the performances, it's really worth it."
Brush calligraphy and owl making were the most popular of the various arts and crafts activities. People sat down at a station and wrote words in Chinese, like "Taiwan" or  "love." They could also craft stuffed owls of felt and decorate them.
There were countless picture perfect moments and background, as evidenced by the four festival photographers running around. From three feet in diameter plastic dumplings, known as xiao long bao, to a traditional altar set up,
"I felt that the vibe and energy last year was a little bit different from this year," said Vivienne Chang (10), who performed for her 10th year at this festival with the Fremont Taiwan School said. "Last year, there were less booths but the performances were more entertaining which really brought out the spirit of Taiwanese culture. This year, it was very booth-oriented which allowed foreigners to experience the Taiwanese hospitality."
About the Writer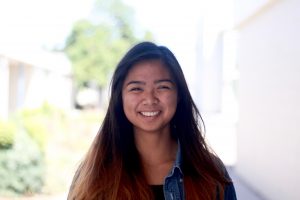 Breanna de Vera, Staff Writer
Breanna (12) is a staff writer. She enjoys writing short fiction and biographical work when not writing for The Voice. She drinks a lot of tea and likes cats, but will not be a cat lady when she grows up. She also has a penchant for avocados and a particular bear known on Instagram as @kevsleepybear (follow him!) This is her first year on the staff.