Irvington hosts CMEA Band Festival
rvington hosted its annual California Music Educators Association (CMEA) Festival on May 5 and May 6, where many local bands and orchestras gathered on Irvington's campus for this all day event. From working as the stage crew to assisting the judges, students ran the whole operation.
"I thought it went really well," senior Kristen Wu said, "Everyone was cooperating to do their jobs. It went just as well as last year, or maybe a little better, because of the improved communications between headquarters and other volunteers. People were always willing to help, regardless of what they signed up for."
CMEA is unlike other music festival in that bands and orchestras are not ranked in comparison to each other—there is no first, second, and third place. Instead, ensembles are given a rating (Good, Excellent, Superior) from three judges. After their performance, bands go to another room and "sight read," which is where they play a piece of music they have never seen before. They are given a score by the sight reading judge as well. If a band has four Superior ratings, it is declared Unanimous Superior.
Irvington Wind Ensemble I won a Unanimous Superior rating for a very strong concert set consisting of the energetic "Caccia and Chorale" by Clifton Williams, "Rest" by Frank Ticheli, and two contrasting movements from "Four Scottish Dances" by Malcolm Arnold. Due to the 12 minute time limit, they were unable to play the entirety of their current repertoire.
Irvington Wind Ensemble II received an overall Superior rating, for their performance of "For the New Day Arisen" by Steve Barton, the calming "Be Thou My Vision" by Gillingham, and "Cajun Folk Songs II" by Frank Ticheli. Irvington's Symphonic bands performed admirably, with Symphonic I receiving an overall Superior rating. Irvington's Orchestra played "Passacagalia" by George Frederic Handel, "Por Una Cabeza", arranged by David Scott, and "Marche Slave" by Peter Tchaikovsky.
The show remained unchanged for the most part with the exception of score guidelines. Sight reading procedures are now stricter—directors are not allowed to sing or clap parts to students. CMEA had previously been hosted by Irvington at Cal State East Bay every other year, but now it's held annually at Irvington
"Thanks to the student volunteers, the festival ran very smoothly," Mr. Rodda said, "I'm looking forward to next year."
About the Writer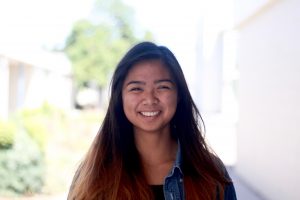 Breanna de Vera, Staff Writer
Breanna (12) is a staff writer. She enjoys writing short fiction and biographical work when not writing for The Voice. She drinks a lot of tea and likes cats, but will not be a cat lady when she grows up. She also has a penchant for avocados and a particular bear known on Instagram as @kevsleepybear (follow him!) This is her first year on the staff.