Operation: Success
There are different paths to success, yet a lot of our students only see a path through Berkeley, Stanford, or Harvard. There's different strategies to get where you want to go, and what you now think will make you happy will not necessarily be what makes you happy in 10,15 years.
During the transition from junior high to high school, one of the biggest changes is an increase in self-advocacy. In junior high, there's more hand-holding and a more restrictions. In high school, that hold loosens; teachers expect you to raise your hand and to tell them if something is wrong. Parents can come and attend meetings, but the person who interacts with the teacher daily is the student. High schools have a larger population and more activities, and getting involved and advocating for yourself in high school from day one, even in ninth grade, is key.
If the student is involved in their own education, they develop social, communication skills,  leadership skills, and eventually discover themselves. Self advocacy compels you to go up to teachers on the first day and build a relationship where you are comfortable with communicating with them.
Senior year is stressful for a lot of students because they don't realize how different it's going to be. It hits students at different times; some realize  before senior year even begins, some realize in the first semester, and some don't realize graduation. They are hit with the realization: I'm not going to be in public education anymore, I'm going off into the world as an adult, and I'm in charge of my education; the professor isn't going to call my parents, it's just me. And all of that is a huge transition. However, if you continue to advocate for yourself, you're going to know what resources and connections are available to you, including someone who can help you with this transition.
Some students look at high school as a path to college rather than a time of transitions and a time to make connections with people who share similar interests and passions. Look around you, be self aware, be mindful of the changes since each year since 9th grade so when the future comes around senior year the changes won't be such a shock.
When you come here from another country, another state, or even another district, it's hard. Teenagers don't have as many experiences as 40-50 year olds, and parents don't want their children to struggle, they want their children to be successful. But some parents don't know that there are other paths out here, and the most pervasive and dangerous misconception among parents is that there is only one path. Everyone focuses on one school and develop tunnel vision. It's unfortunate because there are different ways to get where they want to go. Students overload themselves because feel they need to do this to get to where they want to go. But now, college acceptance offices are examining more comprehensive review. Now, personal statements and extracurricular activities stand out more and the number of advanced classes matter less. Colleges want to see applicants as students, not numbers on paper.  
We've had students go to Berkeley and realize "this is not for me." This is where that vision was of "this is where I have to go to be successful" does not align with what they need to be successful in their lives. Yet, sometimes you have to make those mistakes to realize what you need. There's so much more out there that students don't take into account. They think name-brand or nothing.  
As you pick passions and explore future career choices, you need to do your research. Know who you are, your strengths, your weaknesses, what you're passionate about, and what you want to go do in the future. It affects your academics and who your peers are, which all influence who you are. Thinking ahead and straying outside of conventional strategies of success will help you continue your transition into the next part of your life. If you're centered and know all of these things about yourself, continue to think outside of the box and find something that fits you. Teenage years are when that identity crisis hits, and to resolve it, you need to find something different and positive to you. We all make mistakes and poor choices, but learn from those experiences, pick out what was good, what you can learn from it, what you can change, and move forward.
About the Writer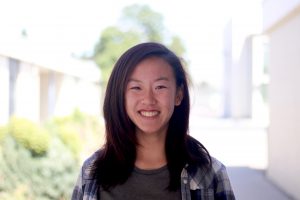 Zarah Zhao, Staff Writer
Zarah (11) is a staff writer and features apprentice for the Irvington Voice. This is her first year on staff. She loves sleeping, dogs, and fries, and also enjoys taking photos and adventuring in her free time. Her favorite places include her bed and SF. Her favorite part of the journalism process is interviewing new people for articles.