Cycling Club Takes On Quarry Lakes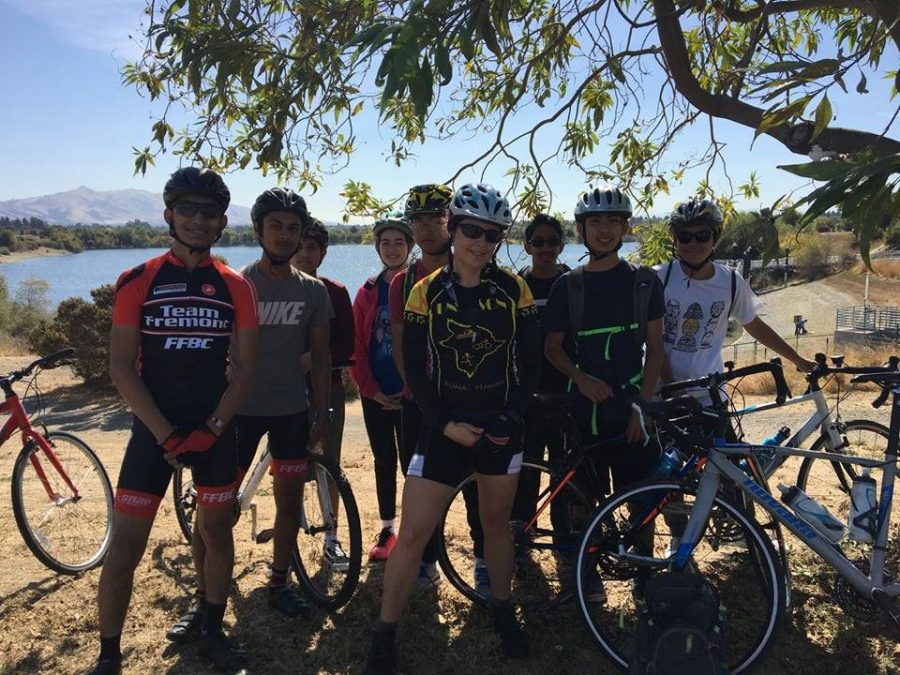 Irvington Cycling Club kicked off the fall with its first event of the year on Sunday, October 1, participating in a group bike ride to Quarry Lakes.
The riders met up at Irvington's horseshoe parking lot with bikes and supplies at 10:00 AM, performing a logistics check before the ride. Out of the nine total participating riders, there were five first-time riders, along with four veteran cyclists. After everyone was ready to go, they proceeded to ride from Irvington to Quarry Lakes. "The entire ride was around 13 miles, " says Cycling Club president and founder Suraj Shah (12). "We got to teach new members about road safety, different rules about biking in a group, and we got out there and had fun."
Once arriving at the park, they biked around the park, enjoying the scenic view. Finally, after taking a moment to rest and eat, they packed up and rode back to Irvington.
As expected, the 13 mile ride was challenging for many members, but everyone agreed that the end result was worth it.
"I think when we finally reached Quarry Lakes and everyone got to see the view for the first time, that was pretty memorable. A lot of people haven't been there before, so it was a new experience for a lot people," says Suraj. "It was definitely a challenge for some of the new riders, but we all made it through."
Suraj founded Cycling Club as a freshman in 2014, and since then the club has grown from a few close friends to having upwards of twenty people on rides. In creating Cycling Club, Suraj sought to apply his passion to Irvington, creating a community of cyclers on campus.
Suraj believes that the best aspect of Cycling Club is the sense of working towards a common goal. Riding out on the open road, cycling offers a sense of freedom, while the views and memories that members experience offers a reward at the end of the long journey.
"Everyone goes to the park by themselves, they all ride their bike," said Suraj. "This is the first time for some people to come and ride together."
Irvington Cycling Club has also partnered with other FUSD schools such as Mission San Jose and Washington for joint bike rides, and hopes to initiate more intra-school rides in the near future. These joint rides usually have thirty to forty people show up, and they are "definitely a memorable experience," says Suraj.
Although they are a tight-knit group, Cycling Club is always welcome to new cycling enthusiasts.
"We're always here to help you out, if you don't even have a bike, we can loan you one," said Suraj. "If you're into cycling at all, join Cycling Club, and we'll worry about the rest."