FUSD Considers Principal Changes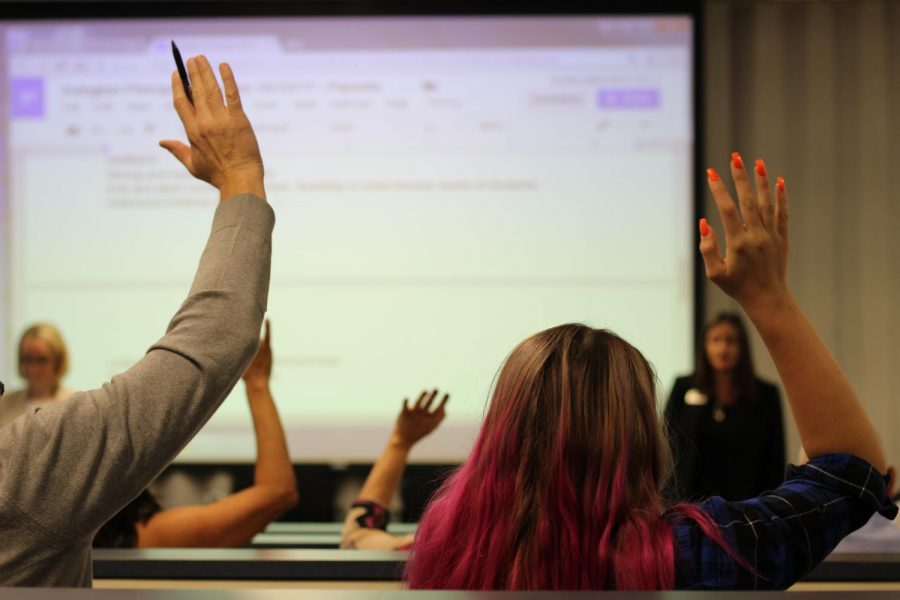 Sherin Lajevardi and Camyll Reyes
October 15, 2017
On Tuesday, Oct. 10, parents, Irvington administration, and FUSD Superintendent Kim Wallace met in Norse hall in order to provide insight and opinions on potential attributes of Irvington's next principal. During the transition period, the FUSD appointed Carol Halbe to fulfill the temporary role as principal. Halbe possesses the authority to carry out many of the typical tasks carried out by principal Sarah Barrious, but she restrains from making changes that could significantly affect Irvington.  The meeting was called to order in response to a petition regarding parent involvement in the hiring process. The discussion concerned the principal's attributes, as Wallace mentioned that any suggestions to alter Irvington policies would be dismissed and saved for later discussion.
Parents signed a petition, posted by Rohini Raghunathan, that voiced their concerns of choosing a new principal and promoted parent engagement in the hiring process.
"We [the parents] hope our voices are heard and that [the FUSD board] is able to involve us in the candidate selection process," Raghunathan said. "We want someone who has a good understanding of the changing demographics at Irvington."
Following the petition, Irvington held a meeting encouraging parents to provide input regarding attributes they would like to see in a principal candidate. Wallace started off the meeting by introducing the context and background of the situation, providing parents with information regarding the rigor and steps involved in the principal hiring process.
"We're not interested in making any school changes without having contributions from whoever the new [principal] is going to be, as well as their staff, and parents, and the community," Wallace said. "That would be a very long process that would involve everybody."
Parents were given two documents as they walked in: one with a timeline of the hiring process and the other with suggested attributes for a new principal. As the discussion opened up, parents proposed different qualities of a principal in order to sustain Irvington's diverse population.
"We want someone who addresses bullying and hate incidents," one parent said. "We want someone [whose] actions are head on and proactive."
Those in the audience that agreed to proposals rose their hand or provided input in order to reach a consensus. Parents proposed suggestions that included having a principal who values the importance of STEM courses, is attentive to parent and student needs, and is efficient with performing tasks. All suggestions were typed on a document that the administration would later go over, filter, and ultimately refine for the interview process.
"We look at all the attributes that the [parents] come up with," Assistant Superintendent Greg Bailey said. "We get a top five list and then build our questions around those attributes. They'll either be in the oral interview or the written prompt that [the applicants are] going to have to respond to."
According to FUSD administration and Dr. Halbe, the principal hiring process will occur throughout the month of October and possibly November. The projected date by which a new candidate will be chosen is around Thanksgiving.
Dr. Halbe commented on the critical attributes and qualities that must be taken into account as a principal of a school like Irvington.  
"You really have to have a good understanding of what is working, how it's working, what staff needs are, how students feel about things, and how their parents feel about things," Halbe said. "There are a lot of people to add to the conversation."