Girl's Volleyball Loses Decisive Game Against Mission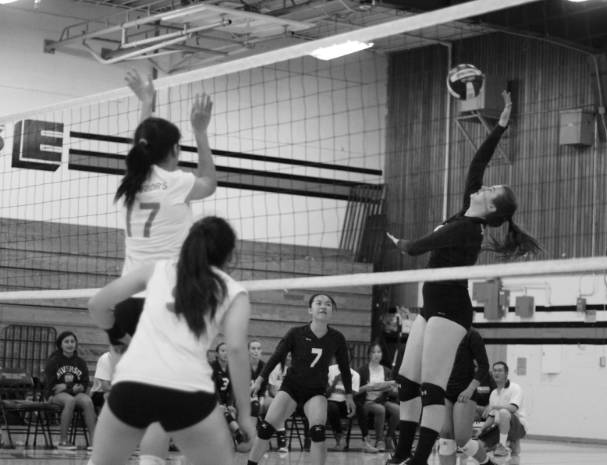 In an away game at Mission San Jose on Oct. 10, Mission's Warriors defeated the Irvington Vikings 3-0 in a decisive game. Irvington slowly gained ground set by set, the comeback was not rapid enough to change the tide of the match. Although the game was attended by an even mixture of both IHS and MSJ parents and students, the audience seemed lackluster: more passive watchers than active participants.
Irvington faced a difficult start in the first set, where they lost 15-25 against powerful MSJ grind against their weaker defense. Tellingly, Irvington coordination and teamwork was more sluggish compared to their opponents. Mission took an early lead, seizing the first set with tight offense and strong teamwork. Irvington utilized both of their timeouts in this set, trying to retake the initiative.
Irvington played a similar second set, battling Mission to a final score of 16-25. This time, Irvington took an early 3 point lead, but early serving mistakes and missed opportunities switched the serve, and the momentum. The plays in the second set were also longer than in the first set, as Irvington seemed to reach their stride near the end of the set. Despite the early lead, Irvington fell behind quickly, and struggled to catch up for the rest of the game.
In the third set, Irvington slowed down in the face of relentless offensive pressure and Mission's sharp counterattacks, and lost the set 20-25. However, the game's lackluster performance did not portray the full story. After the game, Coach Marcus Young revealed that several players had been injured this season, severely hurting the team's teamwork.
"Several players are also underclassmen," he said. With a young team, he argued that they had "potential in the future," and more practice and better coordination should serve Irvington well, especially when they face other teams in the league.
About the Writer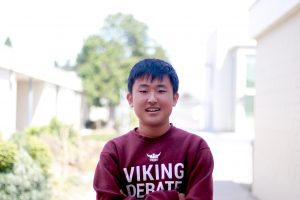 William Yoo, Staff Writer
William (11) is a staff writer and opinions apprentice for Volume 25 of The Irvington Voice. He loves good discussions, reading, and philosophy. He's also a nationally ranked debater and VP of the debate team. In class, he'll probably be studying for the calculus test next period or editing endless articles. Was a cynic, then an idealist, now unsure.