Irvington commemorates Coach Sinnott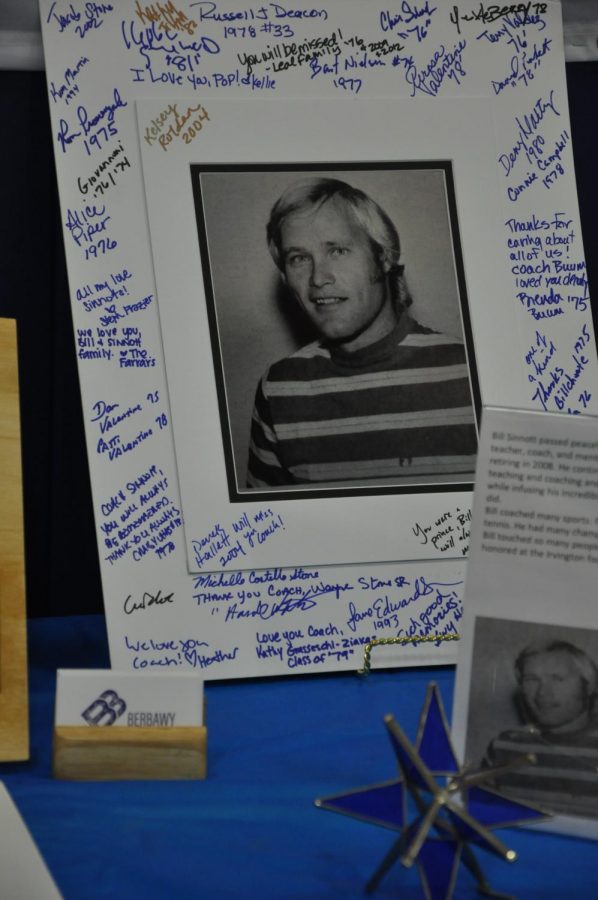 Camyll Reyes and Pia Parekh
November 14, 2017
On Sat. Nov. 4, Irvington held a memorial to commemorate the late Bill Sinnott for his 36 years of dedication to the students and sports of Irvington High School. Coach Sinnott retired in 2008 and passed away in Sept. 2017. He is remembered as an influential coach who encouraged his athletes to be the best, most honest versions of themselves.
Michelle Stone, the Irvington athletic director, praised him for being a steadfast coach who followed through on his word and delivered real consequences. He stressed honesty as a huge policy and evidently displayed that to his students.
"When Bill was a varsity baseball coach, some of the boys had decided to cut class for Senior Ditch Day, which meant they couldn't go to baseball practice," Stone said. "So, [the following] Monday, Bill cut the seniors –the ones that were going to go on to the championships. He brought up the JV team, and he ended up going on to NCS without [the seniors]."
Baseball was not the only sport he taught; Coach Sinnott also specialized in coaching football, soccer, and cross country. His focus on the students set Coach Sinnott's training apart from other coaches. According to Skip Cain, a former Irvington assistant principal and coach who worked with Coach Sinnott, Coach Sinnott's well-taught principles helped students to realize their full potential and grow in their journey as young adults.
"[When he coached], it wasn't his football team, it was their team," Cain said. "He supported them."
Sinnott's passion for sports at Irvington carried on throughout the summer as he set up summer camps that would run for eight years.
"Well whenever I think of my dad, I definitely think about Irvington [and] football and soccer," Kristie Sinnott, Coach Sinnott's eldest daughter, said. "He loved the kids [here], and he loved to find the quietest one, to make them feel comfortable and happy."
The well being of his students were of Sinnott's top priority. To make sure they could follow him, Sinnott led by example.
"He set good examples," Cain said. "Through the way he took care of himself –he was a runner, he talked about staying healthy all the time, and was always in good shape. He was a direct product of what he was teaching to the kids."
Coach Sinnott influenced his students, not only through sports, but also through sharing stories. As Ms. Hashimoto recounts, Coach Sinnott would hand out a story, to any student that would listen, about a carpenter who built houses for a living.
"Before the carpenter could retire, his boss requested that he build the foundation for one more house, not knowing that his boss would later give it to him," Ms. Hashimoto said. "However the carpenter built it halfheartedly, since it was his last. When he found out he could keep the house, he regretted the weak foundation that he built."
Coach Sinnott's impact reached even further than Irvington. Casey Jackson, sixth grade son of Mr. Jackson, grew up knowing Sinnott.
"Every weekend, we would be over at their house just to say hi," Jackson said. "He would pull coins out of my ears, telling me that I needed to get them cleaned."
In the words of Kellie Sinnott, "[Bill Sinnott] always loved on his students and kids and left a positive impact on Irvington."