"That's what my job was really about, making the seniors' days better": Brendan Ho
I volunteer as a cook at the Irvington Senior Center, which distributes food to the elderly who need it. In all honesty, I initially signed up just for the service hours but stayed because I realized I could significantly help the elderly in general by volunteering there. I ended up volunteering for around 100 hours there last summer. The experience was unique because I wasn't just cooking, I also had the opportunity to work part time at the front desk there, translating Mandarin and helping seniors with whatever they needed.
Working with seniors gave me the chance to help people outside of my assigned service. I once helped an elderly lady call an Uber when she couldn't go home alone and she had no one to give her a ride. She looked kind of happy after I helped her. At the time, it felt like it was almost trivial to me, just all in a day's work. But looking back, I bet it meant the world to her.
My service changed my perspective on working and helping others. The head chef once told me that we were professionals and that no matter how we feel when we work, we always have to put on a big smile for the seniors to brighten up their day. Because that's what my job really was about, making the seniors' days better.
I would like to go back next year and see what I can improve on. Now, more volunteers are helping out and it's increased the number of people we can serve to the hundreds.
Community service is pretty important in my opinion, but I think the decision to do it in the first place is even more important.
About the Writer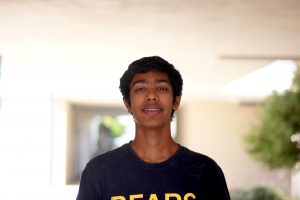 Sarvesh Mayilvahanan, Sports Editor
Sarvesh (11) is the sports editor for The Irvington Voice. He was a staff writer and sports apprentice during his sophomore year. This is his second year on staff. He follows many professional sports and talks to friends in his free time. His favorite part about journalism is dispelling rumors that students have. His favorite movie series is Star Wars and his favorite show is Psych.