Cricket Club hits the ball out of the park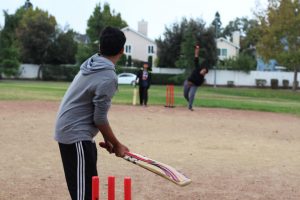 Although only just approved last June, IHS Cricket Club has been spreading knowledge and enthusiasm for the sport of cricket all across Irvington since last spring. The club currently holds meets every Friday after school at the Irvington Community Center baseball field.
"We start with regular warm ups and fielding practice which includes catching and stopping the ball," President Amay Kadakia (12) said. "Then we do batting and bowling practice between batsmen and bowlers. For the last 30 minutes, we play a shorter format of the real game."
Club members are preparing for their upcoming tournament in spring 2018 against the East Bay Cricket Academy.
Along with weekly practices, Cricket Club exerted their presence around campus in other ways as well. In October, club members worked with Mrs. Berbawy to decorate their new jerseys. Treasurer Prajit Saravanan (12) designed the club's logo and then helped other members in the decoration process.
"We first printed the logos using the heat vinyl material, then weeded the printed stickers, and finally heat pressed them to our jerseys, " Saravanan said. "Our members has a lot of fun and got to try something new to most people. "
The club plans to host a bonding event in the future, where friends and family can come and play cricket following the end of first semester finals. Cricket Club will organize the event in association with PTSA to make the event bigger and better than before.
Cricket, a sport not many are familiar with, is one that hits close to home for Kadakia and his friends. Last April, they brought bats, balls, and wickets from home and just began playing cricket during lunch, but soon realized that it could become a school club.
"We just started playing cricket at the Irvington Community Center field during the school lunch breaks," Secretary Keyur Halbe (12) said. "As we played more often, other people joined us."