Students "Reach" for the Skies in Reflection
For the annual PTSA Reflections Art Contest, the Irvington student body showcased its strength in the Arts and Humanities under the theme "Within Reach."
Six students from Ms. Parker's AP Studio Art and Studio Art classes participated this year, and were offered extra credit for submitting by the Oct. 25 deadline. In previous years, students were required to submit artwork for the contest which went towards their Breadth portion (12 pieces that represent the artist's versatility) of their AP Art Portfolio.
"Part of my concern was that the theme 'Within Reach' a little leaned itself towards some more cliche responses," said Parker. "A lot of the artworks that people turned in had hands in them, reaching. But also, it was more connected to this issue of a threshold, like going beyond your comfort zone or reaching beyond what you know."
A total of fifteen students from Ms. Burton's Photo 2 and AP Photo class submitted their works for the contest.
PTSA hosted an exhibition showcasing students work from 6:30 to 8:30 p.m. on Nov. 14 in Norse Hall.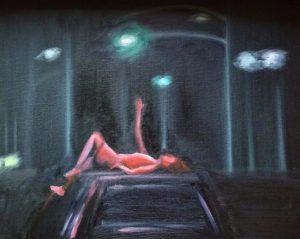 Green Light by Sherry Fan (11)
Taking inspiration from F. Scott Fitzgerald's literary classic The Great Gatsby and her favorite singer Lorde's hit single "Green Light", junior Sherry Fan's oil painting alludes to the green light that the eponymous main character, Gatsby, reaches towards as he aspires to meet his lover across the water. Sherry opted for a more modern rendition, and one in which the green light served as a metaphor for a faraway yet reachable goal.
"I feel like Lorde's 'Green Light' really resonated with me and the whole idea of reaching towards your dream," said Fan.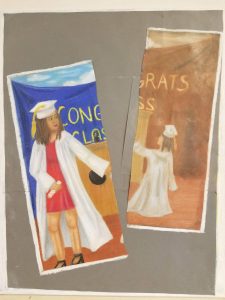 Reaching for the Future by Rachana Jayaraman (12)
Studio Art student, senior Rachana Jayaraman, used water-soluble oil pastel to depict a "split photograph" of two versions of herself "graduating." The contrast between the two halves was deliberate, as Jayaraman conveyed the contrast between her past, younger self in muted browns and a more vibrant scene after maturing from the experiences of high school. Walking away from the podium as opposed to towards it, Jayaraman's "older self" symbolically crosses the threshold of graduation to adulthood in her piece.
"I've kind of been thinking back on the last four years of high school. I remember how in the beginning of freshman year, getting accepted into college seemed like such a daunting task," said Jayaraman. "The stress and everything changes who you are, and in the process, you kind of let go of your child-like self. Graduation is the threshold to adulthood, so it seems kind of sad that you have to let go of your past a little bit, but in the process, when you actually get to graduation, you realize that it is worth it and that the future is full of possibilities."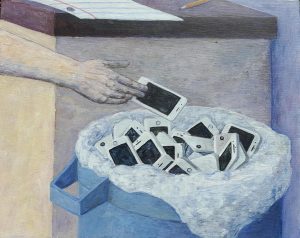 Spoiled Grasp by Aaron Lin (12)
AP Studio Art student senior Aaron Lin opted for a more cynical and realistic take on the implications of "Within Reach" to reflect the societal issues of today with the ever-so-common image of the iPhone. His acrylic on canvas piece took about two weeks to complete.
"I wanted to show how common technology is, and how we're all 'within reach' of technology and information, but because of how common it is, we're kind of spoiled by it," said Lin.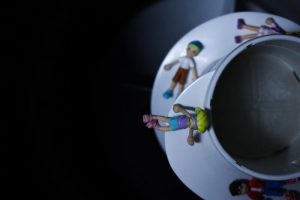 A Hidden Universe by Ping-ya Chao (12)
Before revealing the main subject of her two-part photo series, AP Photo student, senior Ping-ya Chao, makes curious onlookers guess what her photo depicts. Most people are unable to guess correctly—with the most common answers being plates and pans. Still not sure? The series is actually a top view of the washing machine, but despite its commonality there is a "hidden universe" that most are unable to see.
"I realized that when most people look at my photos, they do not recognize it's a washing machine. A washing machine is used in day-to-day life—it's a day-to-day object— it's literally 'within reach'. There's a world within reach right inside the washing machine, but we just don't realize it because we're too busy doing other things," said Chao. "Also, just as a side note, it's kind of depicting us spiraling into a deep, dark, oppressive death."
About the Contributor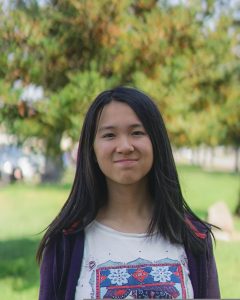 Fiona Zhao, Student Life Editor
Fiona Zhao (12) is the student life editor of Vol. 27 of The Voice, and fittingly likes warm and fuzzy stuff, as the bubble of positivity she totally is. She was a copy editor for Vol. 26. Being part of the paper for three years hasn't wrecked her, so yay? Outside of writing for The Voice, she reads and writes meta for fandom (so why is that much harder when she does it for school?) in her nonexistent free time.