2018 Portrait Show: Weaving Through A-mazing Portraits
In early February, Irvington's Visual Arts Department hosted its fifth annual Portrait Show, showcasing students' photography, painting, and drawing pieces. Opening the Black Box gallery to two afterschool viewings — a Feb. 2 "Soft Opening" and a Feb. 13 "Closing Reception" — as well as appointments to view the gallery during class in the days in between, the Portrait Show was a considerable success in terms of student turnout, despite relatively fewer appointments this year.
Due to scheduling issues, the portrait show did not showcase any items from Sculpture (unlike previous years) but all levels of Art and Photo from all teachers were represented. In contrast to previous shows, during which the gallery showcased the artwork in a horseshoe-shaped walk-through, this year's gallery features a maze of easels propping up artwork from the Studio and AP Studio Art classes, along with each artists' personal statement regarding each piece. Photography from Photo and hand-drawn portraits from Art 1 and Art 2 were displayed on the walls.
Around twenty classes came in during the period throughout last week, including CCA and Drama classes. Overall, student turnout to the afterschool viewings was considerably high, especially at the show's Soft Opening.
"Funny enough, the Soft Opening is where there was half the food and all that kind of stuff, but we actually had a lot more people. We had people coming in until five p.m.," said Sculpture teacher and Art Department Head, Tully Mintey. "The closing ceremony was supposed to be big; there was supposed to be student artists and everything, but people probably thought the first time was the big opening, and the closing was just a last chance or last call."
Both teachers and students expressed their awe at the impressive art pieces, especially the art teachers themselves.  
"At least a dozen artists just outdid themselves on this assignment," Art teacher Kim Parker said.
Students and teachers wrote their thoughts on the gallery in a notebook containing comments culminated from previous years, located next to the door in the Black Box.
Representing the CCA juniors, CCA instructor Nicole Mangiardi wrote, "So many beautiful, poignant, some painful, some joyous, artwork. Thank you for sharing."
About the Writer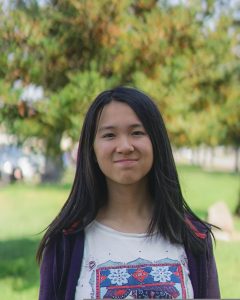 Fiona Zhao, Student Life Editor
Fiona Zhao (12) is the student life editor of Vol. 27 of The Voice, and fittingly likes warm and fuzzy stuff, as the bubble of positivity she totally is. She was a copy editor for Vol. 26. Being part of the paper for three years hasn't wrecked her, so yay? Outside of writing for The Voice, she reads and writes meta for fandom (so why is that much harder when she does it for school?) in her nonexistent free time.