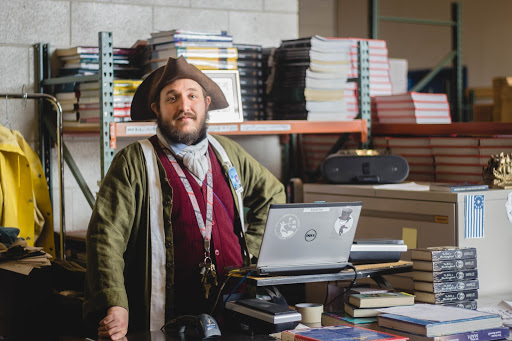 Day Custodian Ben Thompson Spotlight
You've probably seen him when your teachers bring you to the book room to check in or out learning materials. In the book room, there are anime memes on the door, some Hebrew phrases on the shelves, and obviously, stacks and stacks of books. Among piles of textbooks and literature novels, he routinely scans barcodes and ID cards, and sometimes asks forgetful students for their ID number.
Ben Thompson is a day custodian and supply clerk at Irvington High School. As a supply clerk, he manages all the supplies the staff needs, and as a day custodian, he assists with custodian duties, where he gets called over when there's spillage, broken glass, or when a student throws up. Thompson has worked at Irvington for two years now, and worked at Kennedy High School prior.
"I found people in Irvington to be more concerned with custodian staff," Thompson said, "At the other schools, I have messages written on the walls for me, saying I should get a 'real job', but I never had that happen here."
Thompson is mostly associated with the book room, and in the two years of working in the Irvington book room, he has encountered a number of  funny yet common situations.
"I find it funny when students walk up to me and say 'I forgot my ID card'." Thompson said. "And I say 'okay,' and they just proceed to stare at me blankly, so then I would say 'so…give me your ID number?' I just found that funny; it happens a lot."
Most students' impression of Thompson includes his "peculiar" dressing style. Wearing a long frock coat, cravat, waistcoat and iconic "pirate hat", Thompson leads some to wonder why he dresses like a pirate, but Thompson says that it's not true.
"What I wear is not actually a pirate hat, I just prefer 18th-century style dress because I want to be different." Thompson said. "People say I'm a pirate because there are a lot of pirates during that time, but that's what they wore because it was just the general style."
During his spare time, Thompson makes his own clothing at home, including his green 18th century style frock coat. Thompson particularly enjoys studying ancient languages such as Hebrew and Koiné Greek, writing stories and long essays, and reading. Thompson even posts on Amazon under a pen name, and is currently working on his first novel. Thompson's love for writing and creating stories comes from an unfortunate situation in his childhood.
"When I was 12 years old, there was a mini series that I wanted to watch called Red Planet." Thompson said."But my parents had just gotten divorced, and I would visit every other week at my dad's place, and asked my mom to tape it. But I never got to watch the first and the last [episode] because my dad's tv wasn't working. My mom told me 'Don't worry, it'll be on again.' But it was never on again. Since I couldn't watch the rest of the story, I started creating my own."
Thompson has an important message for Irvington students.
"I have to say that unity is the most important in our society," Thompson said. "We all have our differences, but we are all people after all. Instead of listening to people who want to divide us and point out all the differences, we should focus on all the similarities we have."
Thompson also has very important advice.
"One of the students found out that by taking a picture of the ID card, I can actually scan the barcode in the picture of the phone." Thompson said. "Since students bring their phone around all the time, they can just show me the photo of their ID."
Since Thompson's pet peeve is students forgetting to bring their ID cards and making him type lengthy 7-digit ID numbers over and over again, you can help him out by following this advice, or by simply bringing your ID card to the book room.