"Into the Limelight" Review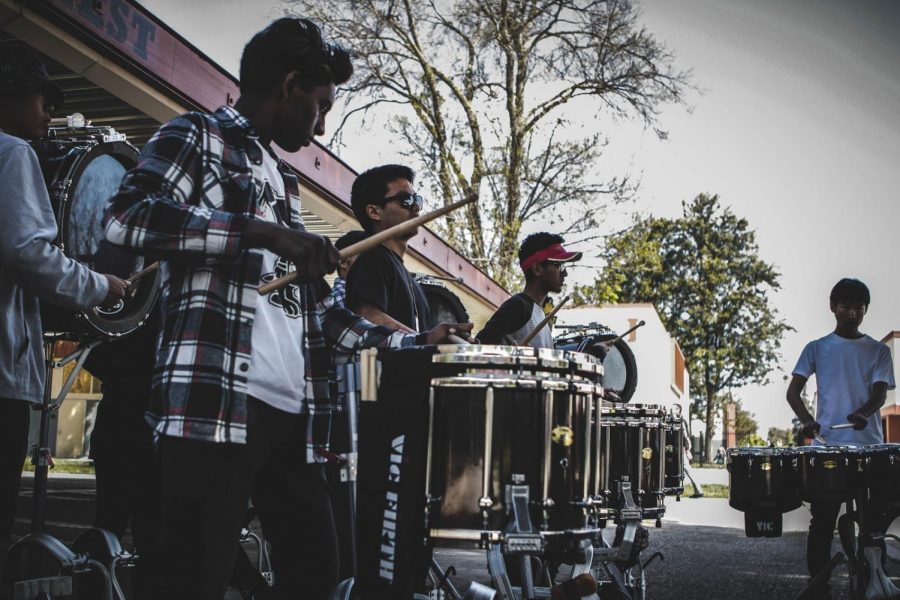 Ayush Patel, Editor-in-Chief
April 30, 2018
On Sunday, April 8, Irvington's Winter Percussion placed second and first in their Northern California Percussion Alliance (NCPA) and California Color Guard Circuit (CCGC) competitions respectively. Since December, Winter Percussion prepared for three circuits: CCGC, NCPA, and Winter Guard International (WGI) and put in 14 hours a week for practice. While the circuits are not exactly consecutive rounds and do not add up to a final score, the team scored well throughout the season, placing second in WGI and first in NCPA. Irvington Winter Percussion performed "Into the Limelight," a piece with the theme of getting a shy kid to step out of his or her comfort zone.
"In each movement, we progressively act more confident and comfortable as performers until the end where we light up our drums and smile up to the hyped audience," Garrett Mark (12) said. "Our show also featured solo performances by me and Kevin Agbayani. After Kevin's solo, we launch into the third movement. The final movement describes the group as a whole embracing the limelight and performing with a lot of energy and put their all into the show."
After their performance, Irvington 10-pointed the second place team, meaning that they had scored 10 points higher than the second place team, which is a wide margin of victory. The teams are scored based on While the winter percussion endured grueling practices and competitions, the team had to work across certain barriers, such as administrative and membership issues.
"We had difficulties with obtaining a practice venue throughout the process as we found out multiple times that other groups had booked those venues at the time," Naveen Thota (12) said, "and whenever we practice outside, we get noise complaints."
In the beginning of the year, the team was also unsure whether a Winter Percussion team would exist due to issues regarding membership, but unlike last year, the team made general improvements.
"At the beginning of the program, we weren't even sure if we had a winter program, because of the lack of membership," Mark said. "But compared to last year, the members of our program worked a lot harder for the championships. The members were more experienced because they did Winter Percussion for a longer amount of time."