Broadway West Says Goodbye with "All in the Timing"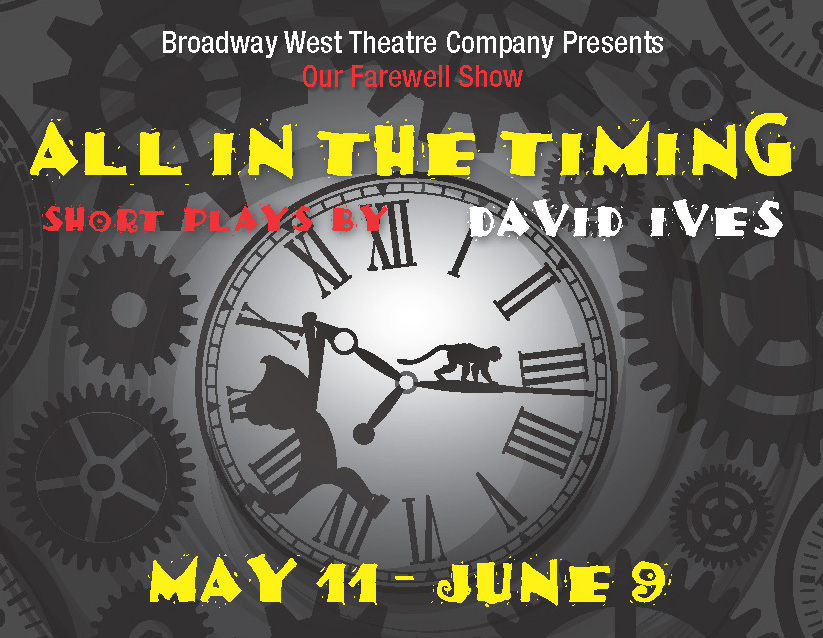 For the final show of its last ever season, Fremont's well-loved community theater company Broadway West put on All in the Timing, a play written by David Ives and directed by Paula Chenoweth, Mary Glade, Ross Harkness, Angie Higgins, John Rutski, and Jim Woodbury, composed of a series of smaller stories exploring the themes of time and existentialism. The play served as a fitting goodbye for the company, as its many vignettes allowed for a large cast full of longtime performers and for longtime members of the Broadway West community to experience the community they were a part of for years for the last time.
All in the Timing is a collection of six one-act plays. The first play, Sure Thing, tells the story of how time turned itself back for two people until they finally said the right things and then fell in love. Arabian Nights tells the story of an overzealous "translator" playing matchmaker for a foreigner and a shopkeeper in Saudi Arabia. Universal Language is a story about a conman who falls in love with his victim after tricking her into believing he's teaching her a new language. In a similar vein to Sure Thing, Variations on the Death of Trotsky is a story about Leon Trotsky hallucinating his death over and over again. The Philadelphia tells the story of a man who's trapped in a "Philadelphia," where he will never get what he asks for. Finally, Words, Words, Words is the story of three monkeys trapped in a lab indefinitely until one of them, by chance, types out Hamlet in one of their typewriters.
All the performances by each and every one of the actors was very impressive. Especially in Universal Language — where the actors are speaking in the made up language "Unamunda" for more than half of the play — the actors used their vocal inflection and body position to skillfully communicate their characters to the audience.
While the fast pacing of some of the acts like Sure Thing and The Philadelphia made it difficult to understand what was happening in the beginning of their stories, it wasn't long before it was made quite clear what the main conflict of each act was. Sure Thing should definitely applauded for the sheer hilarity of its concept, and its execution as well. As each bell rung, the same actor would change personalities so fast and so seamlessly, it was almost impossible to tell that it was actually two people playing pretend, and not the cosmos interfering in a couple's love life.
Variations on the Death of Trotsky was also extremely well performed. What began as a comedy similar to Sure Thing morphed into a moving story of a man coming to realize the complexities of the world before succumbing to a fatal injury. Arabian Nights was also wonderful to watch, and props to the actors playing the couple for keeping a straight face while the "translator" relayed every word they said either too literally or in an overly dramatic fashion. The three actors playing the monkey's in Words, Words, Words should also be applauded for their commitment to their craft. There aren't many people who would willingly roll around on the floor like a two year old in front of a room full of grown adults.
Despite the sparse set and basic costumes necessitated by the company's debt, the entire show was a joy to watch. Broadway West's productions of old-timey shows has been a significant part of Fremont's community, and it will be said to see it perform its very last show on June 9.
About the Contributor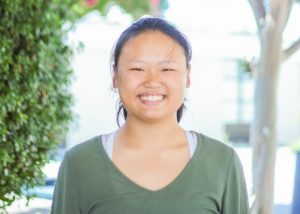 Kayla Xu, Editor-in-chief/ News editor
Kayla (12) is this year's co-News Editor and co-Editor-in-Chief for Issue 28. This is her third year in The Irvington Voice. Outside of writing articles and making layouts, you can find her in Bronco Billy's scarfing down noodles or listening to/badly singing musical theater songs. She hopes that you enjoy everything the paper has to offer this year, including new additions like our podcast, The Voicebox, which can be found on Spotify (shameless plug).