Irvington's discouraging loss to Kennedy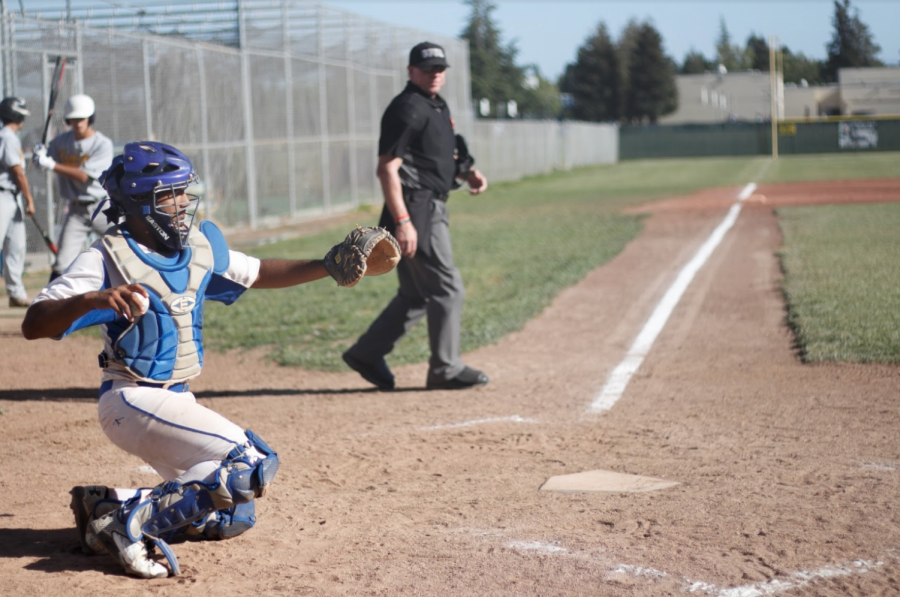 Camyll Reyes, Staff Writer
May 15, 2018
On May 9, Irvington Vikings took on Kennedy High School's Titans in a varsity baseball game at home. The first few innings appeared to be promising for Irvington.
By the bottom of the second inning, all bases were loaded with two outs. Unfortunately, Kevin Bergstrom (11), got out after an opponent caught his fly ball.
             Tristan Hess (12) started off the third inning pitching to Kennedy's Clayton Reboca. Reboca hit a fly ball and managed to run to third base after almost missing the first base. The Titans cheered on their batters from the dugout, clapping and whooping. Kennedy successfully scored two points against Irvington during the 4th inning. During the 4th inning, Irvington started to fall behind. Kennedy's pitcher, Chandler Giles, threw Irvington a handful of strikes. Still, Irvington kept their spirits high. Irvington had numerous chances to run as Riley Murayama and Tristan Hess almost got first base. By the top of the fourth inning, Kennedy took the lead with a score of 0 to 2.
Irvington seemed to bounce back at the top of the fifth inning.  With a collaborative relay, Irvington quickly turned over the top of the fifth by getting three of Kennedy's players out. Irvington managed to load all three bases though unfortunately all players got out.  By the top of the seventh inning, Kennedy took lead with a score of 4 to 0. Irvington worked hard to comeback during the seventh inning. After a successful flyball by Kevin Bergstrom, Ricky Smith subbed in as a runner. Unfortunately each player ran out or could not reach their base in time and the game ended with a loss with Kennedy at 4 and Irvington at 0.
"[I would have improved] our hitting," said Hess. "We didn't really give a lot of guys on base scores."
Coach Frank Durand looks back on the game and their expectations for Kennedy, "[Kennedy] likes to put the ball in play, so we wanted to play a good defense and not make mistakes, though personally we made a couple."
Concerning their runners, Durand says "We [had] some opportunities with our runners on base, unfortunately we couldn't come through."
"[Kennedy is] really aggressive on the base so we tried to win at them there. I think we did a good job."Hess added " they were just planning to put balls in the air but [we had] no one out there."
The Vikings now have a record of 5-7. Their next game will be against Moreau at home on Wednesday, May 16.