A Thrilling Tale of Family, Fantasy, and Love: A Review of the Novel Spinning Silver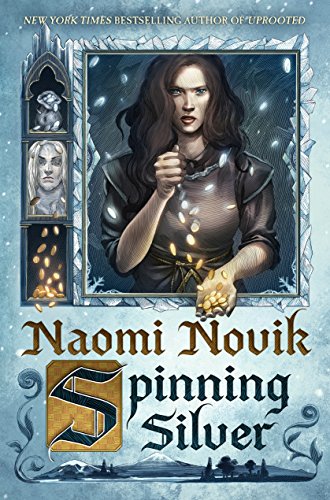 Acclaimed author Naomi Novik has presented her newest standalone novel, Spinning Silver, an adaptation of Rumpelstiltskin and it does not disappoint. After the success of her previous praised novel Uprooted, which came out in 2015, her newest addition was highly anticipated by fans of the young adult genre.
The story begins with Miryem, who is the main character and the daughter of a moneylender. Her father is useless at his job, as he is too compassionate. When he goes to collect money, people always give excuses and he accepts them without questioning it. As a result of his non-confrontational behaviour, Miryem and her family suffer with little money and food. After she's had enough, Miryem takes things into her own hands by taking her father's place. As she does her job, she is unforgiving and rigid, not caring what situation the borrowers are in and takes what she comes for no matter what. As she is successful in her ventures, she figures out how to turn objects made of silver to a bag full of gold coins by melting the iron, making jewelry out of it, and selling it to the wealthy. She is soon renown as the girl who can "spin silver into gold." After this gets out, a creature from another world made of ice and cold, known as the Staryk becomes interested in her and wants to see her gold making ability for himself. As a result, he arrives at her house uninvited and gives Miryem an order to turn a satchel full of silver into gold. If she succeeds she becomes the Staryk's Queen, and she fails she will be frozen alive. From here, her story takes a wild turn of events.
There is a second perspective, this one from the perspective of a daughter of a Duke. She is unhappy and unwanted by her father who mostly ignores her. After a series of events, she ends up married to the Tzar and becomes the Tzarina, but the Tzar hides a grave secret that could kill her, so she starts formulating a plan to savesaved herself and the ones she loves from her heartless husband. From here, her story ties into Miryem's and begins to unravel many secrets.
While the story is mostly focused in the fantasy and action genre, the story does address some common issues in today's world. The main character, Miryem, and her family are Jewish moneylenders, as most Jews were stereotypically known to be bankers and moneylenders. Her family is ostracized from the rest of the village and often seen as lower than the rest. The fact that Miryem started filling in her father's role and was doing a proper job of it only made their situation worse. However, despite the disapproving eyes of the community, her family stays faithful to their culture and tradition.
Although the novel was indubitably thrilling in more ways than one, there were some dissatisfying elements in the story. The plot is very addicting and it makes you want to read more.  Hhowever, I found that many chapters and paragraphs carried on with no valuable content packed in them. Most of it was comprised of mindless chatter and monotonous conversations between characters.
I would most definitely recommend Spinning Silver to book lovers of any kind, given that they are mature readers, due to the symbolic use of offensive terms and scenes with abuse. Naomi Novik has successfully made a comeback with her outstanding new novel by incorporating a beautiful writing style and creating a world filled with fantasy, culture, a smidge of romance, and an overall sense of family.
Rating: 3.5/4 Stars