To All The Boys I've Loved Before vs Sierra Burgess is a Loser
To All the Boys I've Loved Before:
"To All the Boys I've Loved Before", a Netflix original movie released this summer, certainly lived up to the hype surrounding it. This movie centers around two main characters, Lara Jean and Peter, who make a deal to be in a fake relationship after a box of love letters are accidentally sent to five boys that Lara Jean has had crushes on. As  they spend time with one another, and get to know each other, they begin to transition from fake lovers into actual friends. Throughout the course of the story, Lara Jean and Peter end up falling in love as they each battle their own high school problems and overcome many obstacles, such as Peter's ex-girlfriend. This movie was an instant hit, and the two stars, Noah Centineo and Lana Condor, became Hollywood's cutest couple. Their interviews and clips from the movie flooded social media as the movie rose to become one of the most popular of this summer. Many Irvington students can find a connection to many aspects of this movie, much unlike "Sierra Burgess is a Loser." For Irvington students, a largely Asian demographic, it is refreshing to see an Asian lead star in a popular teen movie, an uncommon site in Hollywood. Although Irvington students may not find themselves in exactly the same situations, many students can relate to how it may feel to be bombarded by a  difficult situation at school or feel disconnected from family. An average teen can also easily relate to how frustrated Lara Jean felt when Peter continued to keep in contact with his ex or lonely she felt when her oldest sister went off to college. It was very interesting to see how Lara Jean opens up about her feelings to her friends and family or how her personality flourishes throughout the story as she becomes friends with new people. Not only does Lara Jean become much more expressive with her friends, she also learns a great deal about being able to rely on her family when she's in trouble. Unlike "Sierra Burgess is a Loser," this movie is very evenly spaced out and no part seems very rushed. As for aspects outside the storyline the actors for this movie were perfectly chosen and seem to fit the role of their character very well. Overall, "To All the Boys I've Loved Before" is wonderful movie that is definitely worth spending the time to watch.
Sierra Burgess is a Loser:
The Netflix teen romance movie, "Sierra Burgess is a Loser," was released only a few weeks after "To All the Boys I've Loved Before." Revolving around two main characters, Sierra Burgess, played by Shannon Purser, and Jamey, played by Noah Centineo, the movie tells the story of a catfishing scheme gone wrong, and an elaborate ploy to cover it up that ultimately leads to a fairytale happy ending. The heroine, Sierra Burgess, is a quirky, smart high school senior, with a passion for literature. Although she may not seem to fit the description of a standard "cute girl"— being bigger, nerdier, and a marching band enthusiast— she is fierce and confident in her own skin. Through a cruel prank played by Veronica, cheerleader and self-proclaimed Mean Girl, Sierra receives a series of texts from Jamey, who believes he is actually texting Veronica, and she falls hard for him and leads him on. Later, when texts progress to video calls, Sierra enlists the unlikely help of Veronica to proceed with the scheme. Although the movie has the makings of a great story, the characters did not seem very realistic and the storyline seemed very rushed. The characters of Sierra and Veronica seemed very stereotypical, making the movie very one-dimensional. There were many gaps throughout the movie that left the audience guessing, such as how Sierra and Veronica, the antagonist of this film, were able to become friends and cooperate so quickly after being enemies in school for so long. Though the movie attempt to push positive ideas such as self-acceptance, it is marred by the creepiness of its love story. The ultimate lie of the catfishing trick make it tough to root for Sierra and Jamey as a couple, and harder still for the romance to stay alive throughout the movie. It is hard to digest what Sierra is doing to Jamey, who is portrayed by Noah Centineo as a kind and genuine guy. Catfishing is normalized when it is packaged in a fun, romantic film with a happy ending, which is dangerous because it may lead some to perceive catfishing as a realistic option to finding their own fairytale endings. "Sierra Burgess is a Loser," although a movie with a great deal of potential, fails to live up to its hype, and disappointed many expectant viewers.
About the Writers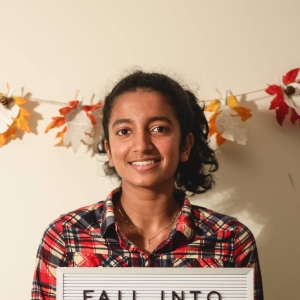 Rachel Kavalakatt, Humans of Irvington High Editor
Rachel Kavalakatt (12) is excited to be Humans of Irvington High Editor at the Irvington Voice. She started Humans of Irvington High two years ago with the mission to capture the heart of the Irvington community through telling personal student stories. Her passion for storytelling and connecting with others immersed her in the world of journalism, and she has never looked back since! Rachel's personality traits include being Canadian, spontaneous renditions of
Hamilton: An American Musical
, and an obsession with spoken word poetry.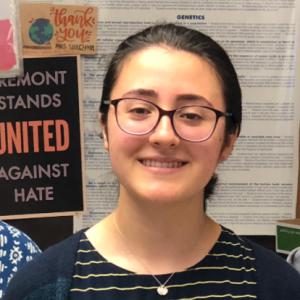 Nikoo Alizadeh, Features Editor
Nikoo (12) is excited to be entering her third year as a member of The Voice. She has been a part of The Voice since her sophomore year and she has been a features editor for two years. She enjoys rewatching her two favorite TV shows, Criminal Minds and Law & Order SVU, as well as learning how to bake in her free time. Her IG is @nikoo._alizadeh.