Work to Rule Update: Expired Salary Contracts Settled; Future Negotiations Remain Ambiguous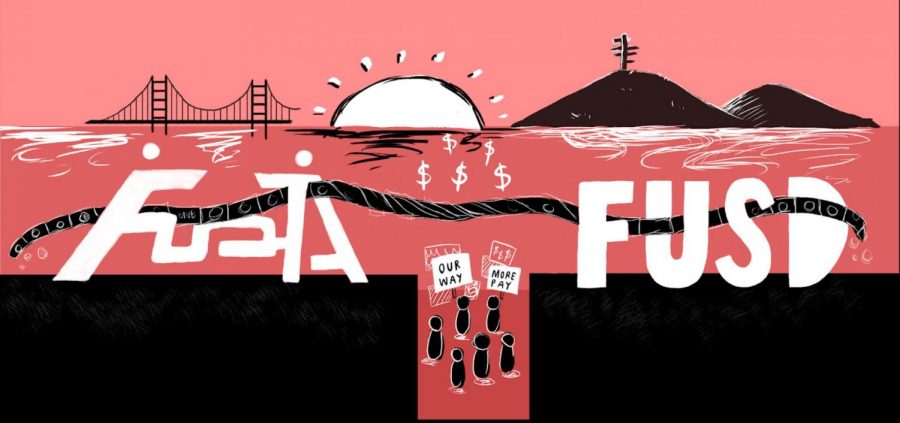 In response to Work to Rule at the end of the 2017-2018 school year, Fremont Unified School District (FUSD) and Fremont Unified District Teacher's Association (FUDTA) settled on a one time retroactive payment that went into effect in August of 2018. Although the expired 2017-2018 school year salary negotiations have now been settled, negotiations for the current school year remain ambiguous, and the possibility of a future Work to Rule remains on the horizon.
After a year of unsuccessful salary negotiations, Fremont Unified School District teachers declared to Work to Rule in June 2018, strictly working bell to bell between the hours of 8:00 AM and 3:05 PM. Even with end of the year finals around the corner and student recommendation letters at stake, teachers had little choice but to follow the union (most teachers are union members of FUDTA) in Work to Rule. The impact was immense, and on Jun. 6, 2018, Irvington High School students rallied in front of the district office where heated anecdotes and concerns were exchanged between teachers, students, parents, and union members during the district meeting's public session.  
During the summer, the district reached a partial compromise for the expired contract—teachers were able to vote on whether to have a one-time bonus on their salary, or to enter a strike. 1,008 teachers, who feared a strike, voted in favor to ratify the contract for a raise, and 128 teachers voted against it. Finally, on Jun. 14, 2018, FUSD and FUDTA's  bargaining team released the official negotiation proposal salary statement for the 2017-2018 school year stating that all employees would be receiving a "one-time payment of 1.05% proportionate to their FTE (Full Time Equivalent)" before Aug. 31, 2018.
This proposal was in lieu of FUDTA's initial 2% salary increase proposal, intended to account for the COLA (Cost of Living Adjustment) in the Bay Area.  One of Irvington's teacher union representatives, Mr. Stilwell, explains how the Cost of Living had increased dramatically within the negotiation time period.
"By the time we had finished negotiations, the cost of living had already gone up 4 percent," said Stilwell. "And the district was essentially offering 1 to 2 percent."
Despite many new housing developments in Fremont over the recent decade, housing prices continue to skyrocket; housing prices have increased 3.8% since last year. To accommodate, teachers have been living outside of Fremont, commuting from cities as far as Dublin and Santa Cruz, more than an hour away, in order to afford rent.  Unlike occupations that allow individuals to work from home, physical presence plays a crucial role in the job of a teacher, which is especially hard to achieve when teachers are unable to afford to live in the vicinity of the school.
Being a Teacher Union Representative for FUDTA requires even more of a time commitment on top of an average teacher's workload. Union Representatives serve as a liaison between FUDTA to the rest of the district's teachers.  Historically, Irvington has continually held a vacancy in several of these representative positions. Last year, some of these seven representative spots were filled by Mr. Stilwell, Mrs. Stilwell, and Mrs. Olson. More recently, Mr. Skillings and Mrs. Burton have joined Irvington's Teacher Union Representative team.
Irvington is known for its time-consuming benchmark projects, clubs, and organizations, all of which were negatively impacted by Work to Rule.   
"The teachers at Irvington do a lot more than at other schools, from the clubs to being an arts magnet school," Ms. Burton said. "We had a lot of support. For us, we felt like our administration had our back, and they were going to advocate for us."
However, to subsidize for the lack of funds in other areas, the district removed the Vice Principal position and added Assistant Principals years ago. Though they had similar roles as Vice Principal, Assistant Principals face the challenge of managing student's schedules while also communicating with students. Previously, the Vice Principal solely managed creating schedules, and did not have to also work with students. With this inefficiency in the administration, teachers started receiving less advocacy for themselves.  
"I wanted to become part of the change that happened here and we need more representation," said Burton. "I think if you complain about stuff but you never do anything about it to make it better then you shouldn't be allowed to complain."
Sadly, the salary struggles of public school teacher's have remained a national issue for decades.  According to an article in Time Magazine's Sept. 13 issue titled, "'I Work 3 Jobs And Donate Blood Plasma to Pay the Bills. 'This Is What It's Like to Be a Teacher in America,'" public school teachers have seen the "worst stagnation in wages of any profession" since 1990. This has been a major contributor to the huge hiring crisis in school districts across the country in recent years, and "at least 17% leave the profession within the first five years."
If the salary negotiation process continues to be lengthy, Work to Rule, coupled with all of its repercussions, will likely have a comeback.  Part of Work to Rule's impact was seen at the 2018 graduation ceremony.
"It speaks volumes when there were 80 teachers at graduation last year but only 10 or 15 this year because we did not reach an agreement about the paycheck," said Olson.  "Nine times out of ten, teachers go to graduation to support the students, and Work to Rule just puts us in a difficult situation."
For now, FUSD will be holding reelections for two school board positions on Nov. 6, 2018, "Right now we're trying to get two new people elected for the school board, Fahria Khan and Dianne Jones," said Skillings. "If they are elected, I think negotiations will go smoother."
About the Contributor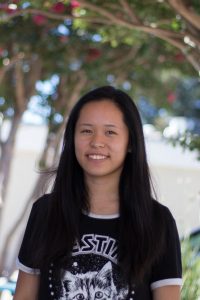 Nancy Zuo, Staff Writer
Nancy (12) is a staff writer for The Voice and this is her first year on the staff. She likes to squish her three cats and binge Youtube videos when she is not writing for The Voice. During her free time, she likes designing button pins, flyers and t-shirt designs.