Irvington Drama's Mime and Commedia Show is a Success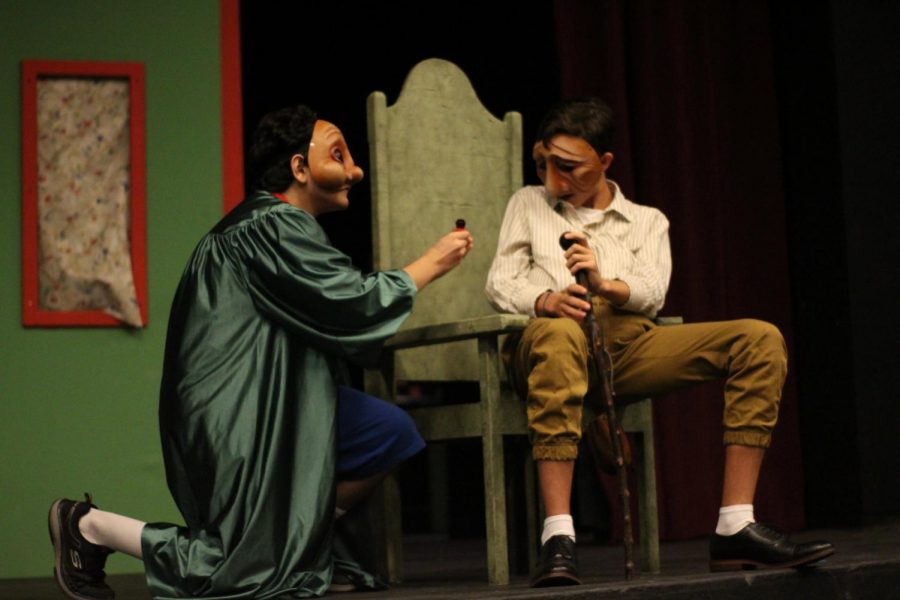 Irvington's Drama classes presented their Mime and Commedia show from 7-8 p.m. on Friday, October 5th at Valhalla theater. The atmosphere was relaxed and comfortable, and students and parents chatted with one another up until the beginning of the show. While admission was free, Irvington's Performing Arts Club sold concessions to raise money for the Drama Department. Hosted by Leo Mutarelli (11) and Anika Goel (11), the show featured two segments: Drama 1's pantomimes and Drama 2's improvisational skits, Commedia.
The first half of the show spotlighted Mr. Ballin's Drama 1 students, who performed pantomimes. Actors wore white face paint and were featured in three different five-minute skits. Although there were instrumental tunes played from the speaker system to set the mood of each scene, there was no dialogue during the pantomimes: the actors relied solely on their expressions and body language to portray the plot of each scene. The first skit was "The Beary Scary Camping Trip," where three actors mimed unpacking an imaginary backpack, taking photos, and an unexpected encounter with a bear. In "Field Day," students enacted races and athletic games to upbeat music. The third mime skit, "Business Meeting," was about two waitresses who, sick of repeatedly serving two customers, poured a drink over the latter's heads. In between each scene, MCs Leo and Anika introduced the next performances with puns.
The second half of the show was Commedia, performed by the Drama 2 students. According to Mr. Ballin, Commedia is a form of theater: Italian Renaissance improvisational comedy with masks, that intermixes Greek and Roman comedy with the use of stock- stereotypical- characters. In order to portray a certain stereotype effectively, students had to learn a certain way of walking and talking that was unique to that character. Moreover, the skits were improvised: though actors prepared an outline of the plot and stage directions beforehand, specific dialogues were spontaneously made up on the spot. Commedia consisted of dirty humor and dry wit, which resonated with the audience really well and caused them to laugh out loud several times during each scene. In the first skit, "The Ring," actors presented a story about love and greed that centered around a ring (they used a ring pop). In skit 2, "Love and War," two "love advisors" helped a boy prepare for his Tinder date. In "The Disguise," a love triangle resulted in someone disguising himself as another's lover. "The Burglar" closed the night with a search for a supposed thief.
"I tell people that improv is the hardest thing to do in theater," said Mr. Ballin. "You have to learn the character well enough to improvise it, and it also involves a lot of physical humor, and sometimes getting that right is really hard. Improv is a really hard thing to do well and I was really proud of what the drama students were doing tonight."
All of this took about two to three weeks of effort and practice. In addition to spending their time rehearsing, the students themselves worked together to create all of the scenes and concepts. They also quickly adapted to the last minute obstacles brought about by the sudden power outage. "We were supposed to have lights for that show and there were none. I'm surprised we didn't have proper sound, but it worked out," said Francesca Jensen (10). Even with the slightly compromised lighting and sound, Irvington Drama delivered a strong and enjoyable performance. This show's witty humor and talented performers made Irvington Drama's Mime and Commedia show a very enjoyable production.
About the Contributors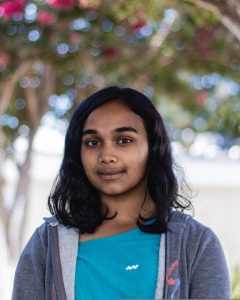 Shivani Manivasagan, Staff Writer
Shivani (10) is a staff writer for The Irvington Voice. She joined journalism to get to know the behind-the-scenes of Irvington (and to improve her writing). Besides playing 4 instruments, she spends her time reading and dreaming about the future. She's always ready to try something new.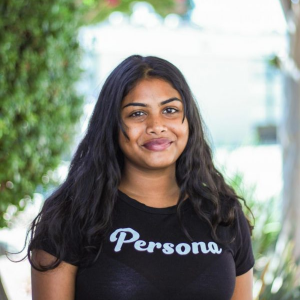 Sanjana Gudivada, Photo Editor
Sanjana is a senior who is the photo editor for The Voice. In her free time she grinds for college apps and the SAT and works out whenever she feels like it. Her daily diet involves boba or homemade Indian food, nothing in between.