2018 Reflections Art Contest
The 2018 Reflections Art Contest due Thursday October 18 stimulated the artistry of many Irvington students to challenge themselves in creating work under the theme "Heroes Around Me". The Reflections Art Contest accepts a variety of works ranging in mediums of dance choreography, film, literature, photography, music, and the visual arts. Every year, Irvington PTSA works to bring the Reflections Art Contest to Irvington High School, giving participants and the winners a chance to proceed onto the state and national level of the competition.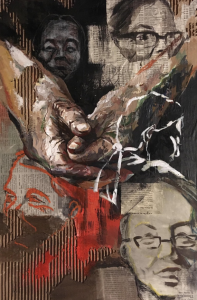 Maylynn Tsai's (12) "Hands of a Hero" won the visual arts sector. Tsai's 30"x26" mixed media piece was made with acrylic, gouache, newspaper, crayon, and color pencil on cardboard. Tsai's artwork is inspired by her mother and the focus on the hands symbolizes the physical hard work and emotional support her mother, as her hero, has showered her with over the years. When working on the portraits, Tsai wanted to experiment with how different mediums could convey different meaning in the final product. Thus, the change of mediums parallel the different times in her life and growth; the crayon portrait symbolized her childhood, the color pencil portrait was of her earlier years, and the painted portraits shift to who she is now as an artist.
"I felt like [my mom] really fits with the theme because she has been supporting me throughout my life. This artwork is like a thank-you card to her." said Tsai.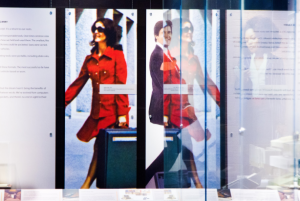 Desiree Ho's (12) "Strides" is a photo of a photo exhibit at the computer history museum. Her photo shows the reflections in the glass of a woman carrying a computer of the 1970s. The placard at the exhibit of the photo says "SILENT 700, 1971: With the sleek new Silent 800 portable terminal in her briefcase, she's ready for anything." Ho hopes her photo carries a message inspiring women in tech.
"In pursuit of equal rights and opportunities, women in the past have made pretty great strides towards ensuring that girls in America today … have more freedom to become whoever they want. I hope that our generation can champion this revolution towards recognizing equality within every person, no matter their race, religion, or political beliefs." said Ho.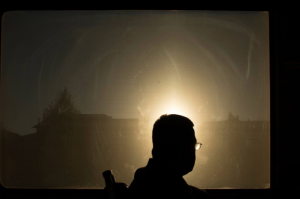 Sameeha Salman's (11) submission "Portrait of My Dad" is truly its namesake: a silhouette portrait of her dad. In the photo, her dad is looking outside the window during high noon and the lighting creates a silhouette of his figure. His distinct classes represent [the] experiences and lessons he learned in his life and has passed down to Salman and her siblings.
"It fits [Heroes Around Me] because my dad is a stable figure in my life; he's always there for me and supporting me in everything I do." said Salman.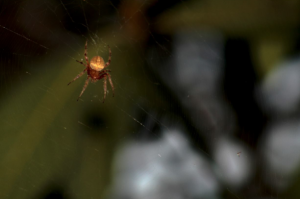 Robin Liu's (12) submission is a photograph of the spider which used to live in his backyard. He explained that in ancient China, it was believed that spiders were good luck and associated with wealth. For that reason, Liu's parents told him to leave the spider alone. This spider was inspirational to him because as he saw the spider slowly grow and capture other insects and pests to grow stronger on its own, Liu felt aspects of the natural world added to his daily life. It fits the theme "Heroes Around Me", as Liu believes it represents an underrepresented hero in his life.
"The spider was sort of a constant in my life– a  fear turned aspiration. It encourages me to wait patiently for results but also make sure to lay out the framework for results to happen."