"Black Lives Matter": The Hate U Give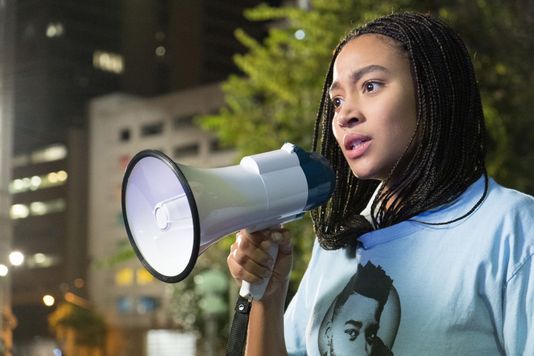 The Hate U Give, a movie based on the award-winning book by Angie Thomas, was released on October 5 and received favorable critical reception. The film, a moving commentary on social injustices faced by African-Americans in the United States.  It made around 30 million dollars, on a $23 million budget, only a $7 million profit. Comparatively, movies with a meaning that is less applicable to the real world and that do not create such a touching impact, gross obscene amounts of money on noise marketing alone.
The Hate U Give was filmed in Georgia and cast popular figures, such as singer Sabrina Carpenter and Riverdale actor KJ Apa. The protagonist, Starr Carter, is played by Amandla Stenberg who was also cast as Rue in The Hunger Games. The movie follows Starr, a girl from an impoverished neighborhood called Garden Heights, an African-American majority community. Her neighborhood is packed with crime, and residents are often arrested by policemen for various things. In contrast, Starr goes to a school filled with caucasian students, according to her mother's wishes. Since this school is very different from Garden Heights, Starr changes her persona as she switches between these two places. One night, she gets a ride home from a party with her childhood friend Khalil. They are stopped by a caucasian policeman, who then mistakes Khalil's hairbrush for a gun and shoots him. This completely shatters Starr's world and exposes her to the prejudice against African-Americans in her neighborhood. Despite some backlash, she goes to court to prosecute the white policeman and immerses herself in advocating for "black lives" and fighting for justice.
This film brings up the topic of discrimination, and shows the racial struggles that African-Americans have to face in society on a day to day basis. For example, people start portraying Khalil as a drug dealer and saying that he was a bad person while sheltering the caucasian policeman who shot him. This production really is an eye-opener for people not going through these struggles and shows them what difficulties other people have to go through. Sometimes people are not aware of the problems that other people face, and turn a blind eye to it.
Stenberg's performance was incredible because it truly felt like she connected with her character, which took me on an emotional rollercoaster. She even said that she related to some of the things this character went through, which made her highly qualified for the role. I think this movie is very educational and must be shown to older audiences. This was made to spread awareness about the discrimination and persecution that African-Americans face, and I think it really did a good job of that through the brilliant acting and the plot. I feel like this film could not only inspire African-Americans but also others, to stand up for what they believe in.
About the Writer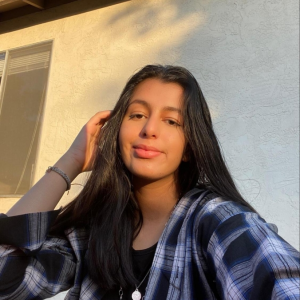 Megan Dhingra, Student Life Editor
Megan Dhingra (12) is a Student Life Editor and will be entering her third year with the IHS Voice. She enjoys going on short road trips, preferably to San Jose, because it is more interesting there. She likes to binge-watch crime TV shows and kdrama in her free time. Her IG is @megandhingra.