Mock Trial Goes the Extra Mile
Though school exposes us to laws, amendments, and the Constitution, we rarely get an opportunity to go to a court and see the judicial process in action. This is not the case for Mock Trial club: team competitions for Mock Trial, often situated in a real courtroom with professional attorneys acting as competition judges, mimic real-life court cases. Mock Trial Club is a chapter from the Constitutional Rights Foundation, a non-profit that advocates a deeper understanding of civics in youth today.
In Feb. 2018, Irvington took fifth place at the Northern California Constitutional Rights Foundation competition, as well as Best Attorney and Team Spirit awards. With the selection process for the 2018-2019 team to participate in tournaments recently coming to an end, the club is excited for the competition season. The team consists of both a prosecution and defense side, and teams compete against respective teams from other schools. Last year's court case for competitions dealt with a murder case; while this year's case focuses more on technology, specifically in an instance of cyberbullying.
Unlike other larger clubs, such as DECA and Debate, that have solo or partner events, Mock Trial's competitions are primarily team-based. Designated witness and attorney roles are determined at the start of the season from auditions. In addition to competitions, Mock Trial is planning to host a practice mock trial in Valhalla, as well as begin teaching mock trial at a nearby elementary school this year.
"Not a lot of people know what mock trial is at an early age," said Co-President Rachel Wang. " We hope to be able to teach students what it is earlier so they are able to have that knowledge when they come to high school."
Though Mock Trial is a niche field that focuses primarily on law, the concepts learned can be easily applied to learning civics in any field.
About the Writer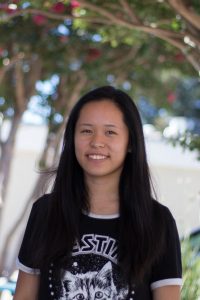 Nancy Zuo, Staff Writer
Nancy (12) is a staff writer for The Voice and this is her first year on the staff. She likes to squish her three cats and binge Youtube videos when she is not writing for The Voice. During her free time, she likes designing button pins, flyers and t-shirt designs.