Question Man: If you were in a K-Pop band, what would be your groups name and why/what would it stand for?
Kriezha Antonio (9):  "Basic Girl Power since I want it to be all girls all coming together instead of all boys coming together."

Vivega Saravana Parabhu (9): "XS because my group would be very extra."

Emma Tan(10): The L's and it would stand for love because I'm filled with love and happiness.  

Mahdi Shahab (10)- "HF; have fun, just because I like having fun and relaxing."

Alysa Ngo (10): A.T. because I'm always tired.

Isabel Hu (11): I would name it Gay Lord and it would represent the gays and my amazingness.

Yogita Senthil (11): Expresso Depresso because I live off of espresso to get rid of my depresso.

Adriana Thant (11): The Chilling Foxes because I like foxes and adjectives makes it sound cooler.

Vaishni Sharma (12): EAT because I like to eat.

Kritika Rao (12): K.R.V. and this is because I used to be in a K-pop phase and I had these friends of mine who were also intensely into K-Pop. So we decided if we ever became a group we would take the first letters of all of our names which was K,R, and V; so it was going to be crave with a K.

Jeffrey Wang (12)- " LIT because hopefully my bands always going to be lit."

About the Writer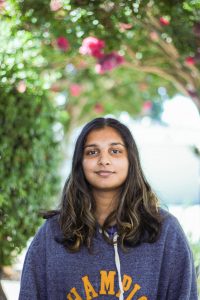 Akshita Nair, Entertainment editor
Akshita (12) is an entertainment editor for her second year in The Voice. Her favorite part of being on The Voice staff is writing articles and the free food.You can usually find her reading fantasy books or watching tv shows instead of doing her actual work. If you mention Hamilton, certain book titles, or her dog, she will never stop talking. So don't do that.