A Lasting Legacy: Ronil Mehta's Commemoration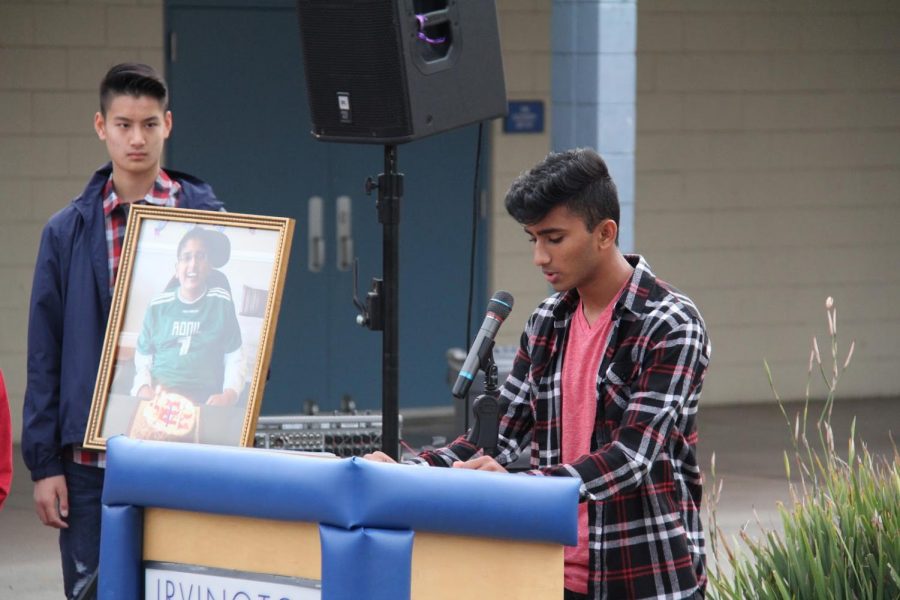 On Tuesday, Nov. 28 students, friends, and family gathered to commemorate Ronil Mehta's life through planting an evergreen tree with the engraving "Brave Ronil" in the courtyard during Advisory. Dedicated to Ronil and his brave fight against DIPG brain cancer, the tree will grow and flourish for decades to come as an enduring symbol of Ronil and what he stood for. Ronil's birthday was on Sunday, Nov. 25, and he would have been 15 years old.
Mr.Willer shared a proclamation from the Fremont Mayor Mei, Ronil's family shared a few words, and Mrs. Melsby, Mrs. Holmes, and several of Ronil's friends and classmates spoke about their memories with Ronil. After the ribbon cutting and dedication of the tree, there was cake to celebrate Ronil's birthday.
Over — students gathered as Manisha Modi, Ronil's mother, spoke about her son and his fight, as well as the importance of DIPG cancer. research.
Modi recounted her memories with her son, exemplifying his integrity and attesting to his selfless attitude.
"Be good to one another and always be helping one another [because] that is what he believed in. Even though he had a difficult time, he never stop helping other people," said Modi.
Mr. Willer spoke of Ronil's enthusiasm and excitement during school spirit weeks.. Horner Jr. High principal Mrs. Holmes shared anecdotes of Ronil's junior high days, his character, and his impact.
"We always call him Brave Ronnie because he was very courageous and always had a smile," said Holmes, of the evergreen tree's engraving, "and he always wanted to make everyone else feel comfortable, even if it meant that he was uncomfortable."
Ronil's friends reminisced on their favorite moments, cherished memories, and best experiences with Ronil, and what he had come to mean to them.
"Ronil showed me that living a true life is living happily and making sure everyone else around you is happy because that's the only way that you'll be happy," said Harshil Shah (10), a close friend.
Ronil's last good deed was his decision to donate his brain tumor to Stanford hospital for DIPG research, a remarkable act that unlocked numerous doors for future developments into DIPG cancer and brain research. With only four percent of all federal funding dedicated to childhood cancer, the Mehta family took great strides to mobilize the community and spread awareness about DIPG cancer.
To celebrate his birthday, in addition to the tribute at Irvington, his family adopted a meal at the UCSF Ronald McDonald House, a place for families to stay when their children are undergoing treatments at hospital. The Mehta family wanted to celebrate Ronil's birthday like he would have wanted them to: by giving back to the community and permanently carrying on his legacy.
Ronil's courageous spirit, his enduring passion for life, and his energetic spirit will leave a lasting impression on all Irvington students, especially the Class of 2021. The Class of 2021 will always carry Ronil in their hearts, and he will be a permanent piece of the mosaic of Irvington history through the tree that was planted.
"Although Roni is no longer with us and he's eternally resting, his pain is not for vain," said Aditya Jadhav (10), "His struggle is not for vain, and he will always be remembered."
About the Writer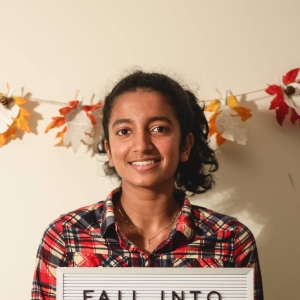 Rachel Kavalakatt, Humans of Irvington High Editor
Rachel Kavalakatt (12) is excited to be Humans of Irvington High Editor at the Irvington Voice. She started Humans of Irvington High two years ago with the mission to capture the heart of the Irvington community through telling personal student stories. Her passion for storytelling and connecting with others immersed her in the world of journalism, and she has never looked back since! Rachel's personality traits include being Canadian, spontaneous renditions of
Hamilton: An American Musical
, and an obsession with spoken word poetry.