Irvington Boys' Basketball Triumph in First Tournament
Irvington's boys' varsity basketball team brought home the first tournament trophy of the year in celebration of a successful start to the pre-season. The team won all three of their games in the King's Academy Paul Spates Classic tournament: against Burlingame (50-40), Homestead (54-47), and Monta Vista (58-55).
The team was able to effectively score points through half-court sets and by driving the ball to the net. While the team won relatively easily against their first two opponents, they faced more competition in their third game against Monta Vista. The team played strong defense and were able to win their first two games by a fairly large margin, holding those teams to under 50 points, but emerged victorious in the final game by a narrow 3 points.
"I think we all played really well and we could play better, but luckily the competition there wasn't too difficult, so we came out on top," said Small Forward Winston Wu (11). Throughout the course of the tournament, they took different approaches to play against different teams. "We tried to scout their play strategies, and we worked our game plan according to that."
This tournament was a chance for the team to learn about their chemistry, what they were good at, and what they needed to improve. Right now, the team is working on pacing. "We didn't play that fast, so the pace of the game was slowed down," said captain Braxton Carlson (12). "We're working on speeding up the ball, getting on the court quicker, and scoring at a higher pace."
After a successful first tournament, the rest of the season is looking bright for the team, and they're already trying to strengthen their weaknesses. "So the bar is set over here for defense," said Carlson, "and now we just need to extend the offensive bar and separate that margin of victory even more."
About the Writer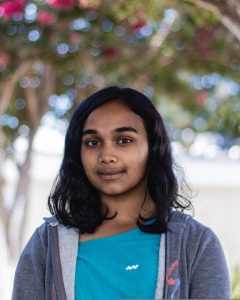 Shivani Manivasagan, Staff Writer
Shivani (10) is a staff writer for The Irvington Voice. She joined journalism to get to know the behind-the-scenes of Irvington (and to improve her writing). Besides playing 4 instruments, she spends her time reading and dreaming about the future. She's always ready to try something new.