Irvington Girls' Basketball Lose to American
On January 16, Irvington Vikings lost to American in a basketball game at home with a score of 47-55. The score looked promising for the Vikings in the first two quarters, but Irvington was unable to maintain the momentum in the next two quarters.
During the jump ball, American got the possession of the ball and they were on offense for the first half of the first quarter. Irvington's game was looking promising towards the end of the first quarter as they caught up with the score swiftly. With excellent long passes, they were able to keep the ball on American's side of the court for the majority of the time. The first quarter ended with a score of 9-11.
The crowd got more enthusiastic towards the beginning of the second quarter as the Vikings started off strong. Kaitlyn Kodama (11) made several steals and three-pointers which helped Irvington catch up to American. Sakshi Thakral's (9) amazing offense helped Irvington stay in possession as well. By the end of the second quarter, both teams were tied at 21-21.
Irvington had trouble keeping up with American in the third quarter. They had a hard time making baskets and keeping the ball in their possession. Their free throws and positioning also became a flaw that affected the outcome of the game.
The last quarter of the game didn't look promising for Irvington. They were several points behind American and couldn't consistently make shots and fell behind. This gave American an advantage over them and they were able to get possession of the ball easily.  Irvington missed several free throws and struggled to get in defensive position again.
"We took a lot of good shots but they just weren't falling," said Kodama. "I thought we had a chance of winning and we certainly did throughout the entire game, but didn't pull through during the 4th quarter."
Looking back on the game Coach BJ Hagood said, "We gotta work on more free throws, more layups, we win that game by ten."
"It was a great win for us because we had to see how good we actually are as a team." said Coach BJ Hagood, "all the girls played really hard for four quarters. It was a great game for everybody."
About the Writer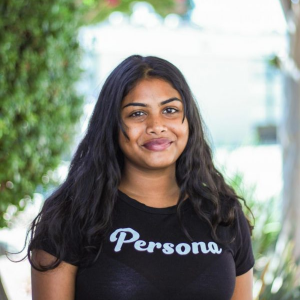 Sanjana Gudivada, Photo Editor
Sanjana is a senior who is the photo editor for The Voice. In her free time she grinds for college apps and the SAT and works out whenever she feels like it. Her daily diet involves boba or homemade Indian food, nothing in between.