Irvington's All-Girl Cyber Security Teams Compete at State Tournament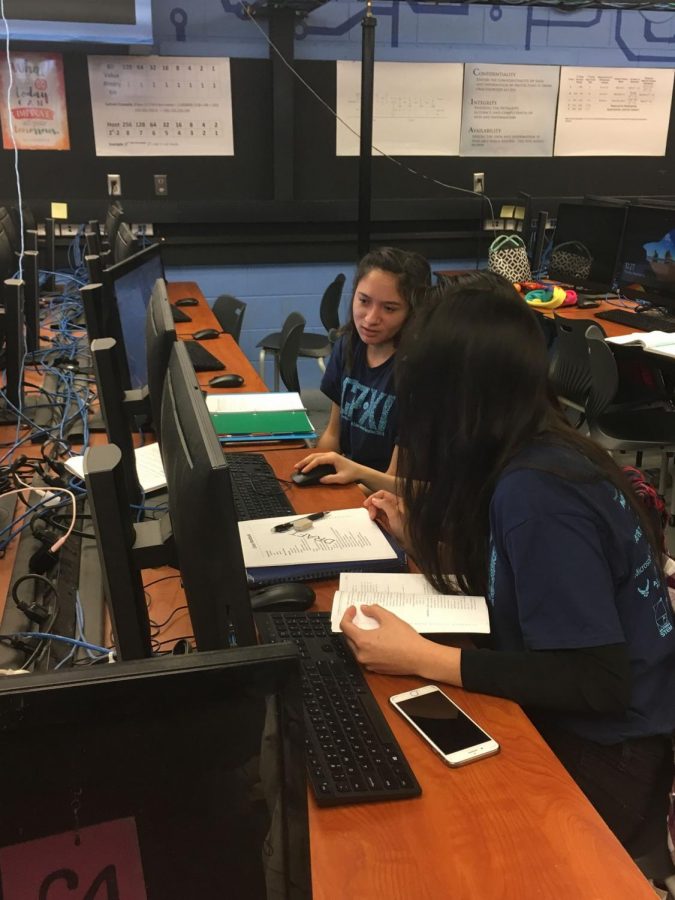 On Friday, Jan. 11, five cyber security teams of six from Mr. Albizo's computer classes competed in the state round of the CyberPatriot competition and two teams have advanced to the semifinals. Two all-girl and three all-boy teams participated in the tournament, and one all-girl team and one all-boy team have made it to the semi-finals to be held on Friday, Feb. 1. The national competition consists of two qualifying rounds, followed by the state round, semi-finals, and then the national round. Teams gain points through solving problems in encrypted images. The highest-scoring teams on the platinum tier in the semi-finals qualify for the national round, held on the east coast in March.
"It really takes a major effort to succeed in the competition, and it's very challenging. People in the middle school level, the high school level, and even military cadets compete. We're participating in a competition along with thousands of schools in the country" said Mr. Albizo, the teacher who is in charge of the teams.
In the tournament, however, Irvington faced several challenges.
"The servers were disconnected, and were freezing and glitching. So, we couldn't get that many points since the images weren't working," said Samantha Bustamante (12), a member of the girls' team. "Despite that, I think we did pretty well compared to last time. We finished one section completely and got a good score on the completed stuff."
The teams are not sure whether they will advance to nationals because of the glitches with the servers, but if not this year, "there's always next year," said team member Annabella Mata (11).
In the three years that Mr. Albizo has ran the cyber security teams, he has observed considerably less females in his classes.
"In my class there's only two girls and the rest are all guys, so there should definitely be more females," Bustamante said.
Mr. Albizo strongly believes that more women should enter the field, since they possess qualities that are well-suited for computer science.
"These girls are very tenacious. There was one particular girl who was the last one here on the day of the tournament, until 9 at night, working," said Mr. Albizo. Some kids may quit before that and run out of ideas, but this girl was there and still working. It was very admirable. You see a lot of these young women here today that are exactly like her."
"Women can do this just as well as any guy can and maybe even better because we are more attentive to details," said Mata.
"Don't be intimidated by the lack of girls in technology. Cause I remember in my class last year, there were very few girls and we stuck together and did really well, so don't be deterred by that," said Divya Venkatesh (12).
Many of the women in Mr. Albizo's classes continue their passion for coding and plan to pursue tech-related fields in college and beyond.
"I had one young lady come to me in eleventh grade who didn't know what she was going to do. She competed in CyberPatriot that year and she enjoyed what she was doing, competed again, and when she graduated she knew what she wanted to do. She went to UC Santa Barbara to study computer science." Samantha Bustamante is also going into a tech-related field and will pursue software engineering in San Jose State.
The team members say a part of why cyber security is so interesting is because it connects to the real world. With advancements in technology comes sophisticated hackers.
"People could steal your identity. They could get in while you're surfing on your laptop one night, and before you know it, they're in. That's why you really gotta be careful; none of us are immune to this," Albizo said.
This is why there is always a growing demand for people in this field, however this demand is not only limited to men. As proven by these girls, women can also play a huge part in solving these real-world problems and should be encouraged to pursue careers in the fields of technology.
About the Contributors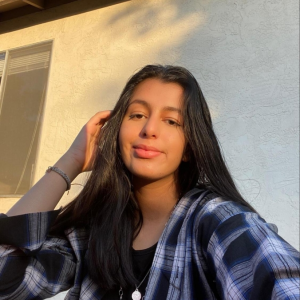 Megan Dhingra, Student Life Editor
Megan Dhingra (12) is a Student Life Editor and will be entering her third year with the IHS Voice. She enjoys going on short road trips, preferably to San Jose, because it is more interesting there. She likes to binge-watch crime TV shows and kdrama in her free time. Her IG is @megandhingra.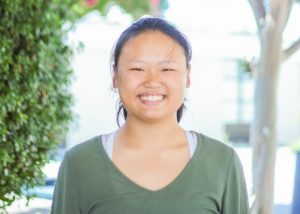 Kayla Xu, Editor-in-chief/ News editor
Kayla (12) is this year's co-News Editor and co-Editor-in-Chief for Issue 28. This is her third year in The Irvington Voice. Outside of writing articles and making layouts, you can find her in Bronco Billy's scarfing down noodles or listening to/badly singing musical theater songs. She hopes that you enjoy everything the paper has to offer this year, including new additions like our podcast, The Voicebox, which can be found on Spotify (shameless plug).