Boys' Soccer's Builds Up Young Team
The 2018-2019 Boys' Varsity Soccer season came to a close with a record of 4-9-1: 4 wins, 9 losses, and 1 tie. This year was considered by both the coach and captains as more of "building" season, as the team was much younger than usual with a lot more freshmen compared to previous years.
The season started out with uncertainty as the new varsity coach unexpectedly quit right before the start of the season. Former JV coach Emilio Torres had to step up and fill the void
Torres stated, "An obstacle that I faced was that I didn't know I was going to be the Varsity coach until a week before. It was a weird transition from JV to Varsity."
This coupled with the relatively inexperienced team lead to their eventual demise throughout the season. The influx of freshman and relatively new team lead to problems because it was difficult to get experience quickly and establish proper communication.
Captain Seungwoo Lee (12) addressed this difficulty and stated, "I guess the primary weaknesses of our team were physicality and communication. When we worked as a team instead of just dribbling the ball, we played much better." However, the team did improve as the season went on.
"We were definitely a lot better as the season went on, still not as good as we could be, but a lot better," said Co-Captain Armon Olaee (12).
The team focused on improving in places that they were lacking. For example, many players struggled with switching the point of attack and ball control. To address this issue, drills at practice focused on possessing the ball. Exercises like these helped the players develop good skills  to lay the foundation for future years.
Although their record may not show it, smaller victories helped highlight their progression.
Seungwoo Lee (12) affirms, "I think our best game was when we played against Washington for the second time. We lost the first game because it was our first game and we didn't really know about each other and had a different formation. But, we were aware of what our teammates can do and can't do by our second game, and we were able to win." As the season went by, the team reassessed the players' individual strengths and weaknesses, allowing them to win games.
The team will use this season as a learning experience, particularly for the younger players. So even though this season was a mild disappointment, the team is hopeful for future seasons to come. The younger team provides for an opportunity to grow and develop into a strong team that sets records much like how boys' soccer has done in the past, much like the 2016-2017 season where they went undefeated.
About the Writer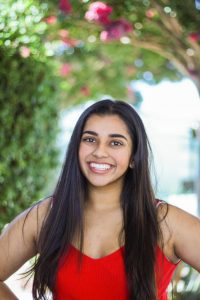 Ashka Patel, Photos editor
Ashka (12) is the Photos Editor for the Voice, although she is basically all over the place, doing whatever she wants. As of September 2019, she has two viral Tik Tok videos, but she is very upset because many potentially-viral videos keep getting put "under review". She also has two dogs and is a varsity cheerleader. Taco Bell is the way to her heart.