VAMS Host Bullet Journal Workshops
Starting on March 28, 2019, and for the following two Thursdays, VAMS, an art and music club and a local branch of the national Visual Arts and Music Society, hosted weekly bullet journal workshops in Ms. Parker's room. The atmosphere of the art room was perfect for fostering creativity. With the month of April fast approaching, it was a perfect opportunity to start bullet journal entries.
The first meeting was centered around starting the bullet journal. High-quality bullet journals were sold for $6 each before the journaling began. Pia Parekh (12) showed the attendees her own bullet journals as inspiration.
"I decided to host the workshops because I wanted to share my love for bullet journaling with my fellow students. People often see me using my journal regularly in school and have expressed interest in starting it themselves. People say they'd love to try it but aren't sure if they'd continue it. I think my workshops are a way to motivate them," said Parekh.
After introducing the functions and usage of a bullet journal, she encouraged participants to start making the title pages. Markers, glue, washi tape, and scrapbook paper were provided. Although many people found starting a journal for the first time intimidating, they found inspiration in Pia's journals and other journals online. Pia also gave feedback about the designs that the participants made.
The second meeting was focused on fine-tuning bullet-journaling skills. This varied among person to person, but most people decided to customize their journals. This meant pasting paper, cutting washi tape, and gluing on sequins to make the bullet journals as personal as possible. Unfortunately, the planned gold-foiling, where delicate gold foil is applied to make designs, meeting was postponed to April 10th, but journaling continued nonetheless. Although they weren't taught how to be aesthetic, the feedback and ambivalent atmosphere made it easy to search for inspiration through other people's journals. People were eating their lunches and chatting while making the journals, making for a casual and relaxed environment
Likely due to the lack of publicity, there was low attendance, and most of the participants were girls. Though it was well-organized and the atmosphere was suitable for the exchange of bullet journaling ideas, it was overall undermined by the lack of instruction. The bullet journal workshops were more similar to forums, and may have been more helpful if more devoted bullet journalists attended. Nonetheless, it was a good event to learn how to start bullet journaling, which is a helpful skill that helps with handling stress in high school.
About the Writer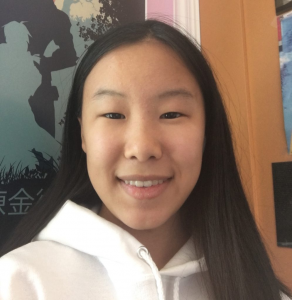 Alice Shu, Editor-in-Chief/Humor Editor
Alice (12) is excited to be Vol 29's co-EIC and co-Humor editor! This is her third year with the Voice and her second year as a Humor editor. In her spare time, she enjoys rewatching
Haikyuu!!
and dodging anime recommendations. To feed her crippling boba addiction she sells stickers to strangers on Etsy (spookystickershop). Find her on Instagram (@spookyalicee).