Teacher Spotlight: Mrs. Rothfuss
Vidushee Mishra, Staff Writer
May 25, 2019
When you hear Mrs. Rothfuss's name, you might think of many things; many consider her to be the intimidating AP Statistics teacher, while some know her as the engaging and involved individual they enjoy to spend time with during advisory. However, after watching her teach and work towards creating new opportunities for others who love math as much as she does, you will begin to see that she's a lot more than just another educator at Irvington—she's a compassionate friend, a dedicated mother, and a teaching enthusiast—and will be missed after her retirement this year.
When she was in high school, Mrs. Rothfuss never thought that she would ever become a teacher—especially one that constantly worked with high school students. Although she did not apply herself as much as she had hoped, Mrs. Rothfuss knew she loved math from the beginning, and poured her heart and soul into all of her mathematics classes. After graduating, she continued to study her passion by pursuing a degree in Applied Mathematics at Cal Poly San Luis Obispo, and eventually became a computer programmer.
However, Mrs. Rothfuss soon realized that being a programmer would not allow her to be able to spend time with her kids, who were the biggest priority in her life.
"I had been a stay-at-home mom for 17 years, and I still wanted to be there for my kids even though they were older at the point," she explains. "Teaching enabled me to have a career where I could still be at home with my kids over the summer, over breaks, over afternoons. One reason I chose teaching as a career was because it seemed very compatible with my priority of being with my children."
After teaching at Irvington for the last twenty-three years, Mrs. Rothfuss is satisfied with her decision to become a teacher. Her most memorable experience at Irvington was creating a math interest-based advisory in order to provide students interested in math with further opportunities to work with others passionate about the subject.
"One of the things that we do as part of the advisory is participate in this online math competition, and it's been interesting to see the excitement of students when they do well and when they learn new ideas," said Rothfuss. "It's also been interesting to see them have conversations with each other when they're done with the competition."
Throughout her time at Irvington, Mrs. Rothfuss has noticed numerous changes among both the student population and the school itself. The most obvious difference is the students' stress levels; students now seem a lot more stressed and under more pressure than they had been previously. Mrs. Rothfuss guesses that this may be due to the change in demographics at Irvington, as well as students' own backgrounds and expectations, which force them to constantly try to be the best.
After retiring, Mrs. Rothfuss hopes to continue working with students in the mathfield by becoming a statistics tutor. This would enable her to maintain her favorite part of being a statistics teacher without having to grade papers or commute to school.
"The thing I really enjoy about [teaching statistics] is that rather than always having to justify to students why they need to learn what they're learning in any given math class, they can always see the applicability of it, they can always see where they can use it," said Rothfuss.
Mrs. Rothfuss reminds current high schoolers that there is more to life than just high school, and that even if times are difficult right now, life will change, and that high school is not everything.
"High school can be a difficult time because of peer pressure, which is really hard because of social media, and bullying," Rothfuss remarked. "But there is life after high school. Keep that in mind."
About the Writer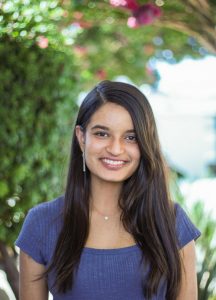 Vidushee Mishra, Features editor
Vidushee (12) is the Features Editor for the Irvington Voice. Her deep love for writing and communicating with a broader audience, encouraged her to join the school newspaper. Aside from journalism, she enjoys competing in Parliamentary debate, in which she is the President of the Irvington team and is nationally ranked, Science Olympiad, and singing in both classical and western styles.