K-12: the Dark Side of Society
Joy Kuo, Staff Writer
October 13, 2019
Four years since the release of her hit debut album Crybaby, Melanie Martinez returns with yet another electro-pop album titled K-12. The album debuted at number three on the US Billboard 200 with 57,000 album-equivalent units and 30,000 pure album sales. Martinez's second album is also accompanied by the film "K-12", which spotlights the talented singer's directing skills and incorporates the album's songs.
K-12 tells the story of Martinez's alter ego, Crybaby, and her experiences in school. The dark yet playful themed album features 13 songs with titles that are associated with school, bullying, and trying to fit in. Martinez also ties in the dark side of life and society by crafting deep lyrics about social issues and life struggles to allow listeners to connect and resonate with her.
Martinez's opening track "Wheels on the Bus" starts off Crybaby's school journey with a whimsical tune countered by a serious message. The song is about a bus driver ignoring the kids smoking and carrying out inappropriate actions in the back, presenting society's negligence  to troubled teenagers. Martinez continues to emphasize the toxicity between people and the evil of humans in the song "Class Fight", which focuses on people choosing violence instead of communicating with each other to solve problems. 
Her iconic eerie tone especially stands out in "The Principal". Describing the principal as a terrifying punisher, Martinez reveals how the song references to her view on American politics. At the end of the song, she repeats the question "Oh, where's the principle?" Cleverly utilizing the homophone of principal and principle, Martinez purposely highlights her opposing views on Trump's leadership and actions, which she discusses in an interview. Even though the meaning of this song is interesting, the melody is hard to follow along. While many songs in K-12 showcased the unsettling xylophone and dark vocals, Martinez's other songs like "Lunchbox Friends" and "Orange Juice" possess elements of hip-hop and R&B, which is similar to the musical style of Martinez's first album. The song "Orange Juice" revolves around a metaphor between orange juice and body image. The song reveals Martine's vulnerabilities and insecurities with her physical appearance and discusses eating disorders, specifically bulimia. The connections she makes between a drink and such a serious topic is unique and engrossing. Moreover, the last two tracks, "High School Sweethearts" and "Recess" is reminiscent of Lana Del Ray's mellow and dreamy style. While Martinez's ideas and aesthetics are compelling, her deliverance of the ideas and the execution of the music lacks catchiness. Some of her songs can be repetitive when it comes to lyrics, especially in the choruses. This induces a droning effect that doesn't strengthen the variety of her lyrics or impact of the songs' messages. Therefore, while I think the album itself is decent, the film for K-12 as an artistic masterpiece really gives depth and context to her songs, making them more entertaining and more thought-provoking. 
Overall, K-12 is a unique album that consists of varying emotional impressions, from serious to romantic. As a fan of Martinez's first album Crybaby, I noticed the style of dark and deep lyrics from the previous album is transferred into this second album. However, the difference is that K-12 contains more mature concepts which come across as serious and eerie. Even though I liked learning about Martinez's insights, I don't fully recommend this album because the music may not be enjoyable for some people as the theme may be too disturbing. I would recommend K-12 for people who are interested in social issues and like to dig deep into heavy content within songs.
About the Contributor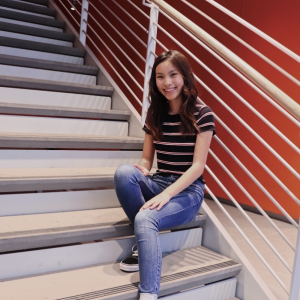 Joy Kuo, Student Life Editor
Joy Kuo (12) is joyful to be the Student Life Editor for her second year in Irvington Voice. Joy joined Irvington Voice because she enjoys engaging with the Irvington community and sharing peoples' stories. In her free time, Joy loves to take photos, watch kdramas, obsess over skincare, and drink Jasmine Milk Tea with boba (30% sugar + no ice). Find her on Instagram @jkjoykuo