The Battle of Blacow: Vikings Overpowered by Titans
Irvington's football team lost to Kennedy High School with a final score of 7 to 41 at the Battle of Blacow football game on September 27. Kennedy scored eight minutes into the first quarter, however, missed the field goal, making the score 0-6. After receiving the kickoff from Kennedy, Irvington was unable to convert their drive and had to punt the ball on 4th down. This gave Kennedy's offense four minutes to clear 40 yards by the end of the quarter. After a strong tackle, which may have been illegal,  Kennedy's #18 and Irvington's #1 and captain, Alqasim Elnaggar (11), came off the field. 
"I was out for two and a half quarters, but during that time our team made sure that that didn't affect us and our team just kept doing their job," says Elnaggar.
Irvington mustered up its defense and was able to impressively hold off Kennedy's offense from scoring from the red zone at the end of the quarter. There was a field goal to start off the second quarter, which Irvington scored a touchdown on a pass in four minutes after executing all their blocks successfully, boosting the team's morale once again. Irvington almost got a pick seven minutes in.  Kennedy had another player injured after he tried to jump over the blocker during Irvington's punt, consequently being flipped over and momentarily knocked out. However, Kennedy was able to score as #2 was left wide open. Kennedy was able to take the momentum once again and scored one touchdown after another, as Irvington's defense was not able to keep up. Irvington, unfortunately, lost as Kennedy made its final touchdown seven minutes into the fourth quarter, ending the game at 41-7.
"We just made sure we could secure our tackles, not using our arms but driving our shoulders. We just made sure that we knew our keys and we watched a lot of film so we knew the plays they were going to run. We just made sure, no matter what happened, we just kept going and play our hardest," says Elnaggar. 
The team's next game will be at and against Newark Memorial High School on Oct. 18.
About the Writer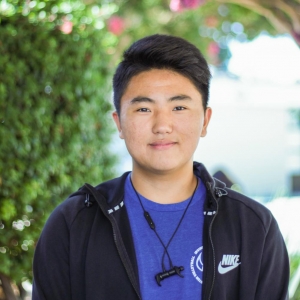 Justin Kim, Graphics Editor
Justin is the graphics editor for Volume 29. It's his third year in the newspaper and all he's done is draw some stuff and make podcasts with his friend Prahalad. Currently, he's worried how he'll make graphics without a drawing tablet.