Jojo Rabbit Does it Different
The much anticipated Jojo Rabbit signals the return of Taika Waititi to the big screen, this time as both a director and an actor. Waititi's previous films, including Thor Ragnarok, have established him as a prominent comedian and filmmaker on the cinema scene. His newest film is a coming-of-age comedy that presents an often-used setting in a new perspective. While movies about World War Ⅱ are not uncommon, most depict the war on the frontlines (such as Dunkirk) or behind the scenes (as seen in Darkest Hour). Instead, Jojo Rabbit explores what life was like for children during the war. Specifically, a German kid who's a Nazi fanatic and has Adolf Hitler, played by Waititi himself, as his imaginary friend. 
The titular character Johannes "Jojo" Betzler (Roman Griffin Davis) is introduced as an ambitious and adamant admirer of Nazi ideology, as proven when he boasts that he's "massively into swastikas". His views on these philosophies are challenged once he discovers that his mother, Rosie (Scarlett Johansson), is hiding a jewish girl, Elsa (Thomasin McKenzie) in their house. The movie explores the evolution of Jojo's Nazi fanaticism as he realizes the true implications of Nazi ideology on his friends and family, all set in the backdrop of the second World War. 
Recent controversy is mostly focused on the fact that Adolf Hitler, an infamous historical figure, was depicted as a comical character, which is a far cry from his real-life persona. It's important to understand that the film is a satire and comedy. It's intention is not to understate the injustices that Hitler committed in his time, but rather to satirize the effect of his presence on Nazi Germany. The movie highlights that everyone was affected by the Nazi party, even the "Aryan" race that the party was so adamant on preserving. It depicts quiet forms of resistance within Germany against the Nazis and the difficult choices made between one's country and one's true character. Even though the film is set nearly a century ago, it seems that the lessons it teaches are more valuable than ever in our modern era. 
Waititi satirizes Nazi Germany through comedy. Scenes of endless Nazi salutes hint at how citizens did not hesitate about worshipping the Führer. The sequences during a Nazi youth camp demonstrate exaggerated their society was, including scenes where pre-teens learn how to throw hand grenades. Throughout the film Jojo, who is ten years old, fantasizes about joining the army, capturing a Jew, and becoming part of Hitler's personal guard. While these scenes may be comical, they are all pieces that link together to reveal flaws in Nazi ideology and its implication on the German people. 
 I did enjoy every joke that was in the movie, no matter how subtle it was. But my favorite parts were the symbols that became more meaningful as the movie continued. Symbols that included specific dialogue, objects, and movements become important as the story reaches its climax, and the ending of the story is told through said symbols. The ability to tell a coherent, emotional, and dramatic story with minimal exposition validates Waititi's ability not only as a comedian but a filmmaker as well, making Jojo Rabbit a treat for anyone who appreciates comedy and smart movies. 
But perhaps the most important part of the movie was its characters. The movie was extremely well cast, including accomplished actors such as Scarlett Johansson, Sam Rockwell and talented child actors as well. Minor characters- most notably Jojo's friend Yorki (Archie Yates) and Captain Klenzendorf (Sam Rockwell)- were used to characterize the protagonists, often through funny dialogue. The relationships between all the characters, major or minor, helped fuel character growth but also demonstrate the impact that the Nazi regime had on the relationships of different groups of people. 
Jojo Rabbit is a coming-of-age movie like none other. It is filled with emotion but had many comedic moments as well. There are no stereotypical extended crying scenes: instead, the movie invests more time on developing the characters and themes in order for the audience to appreciate them more. Thus, pivotal moments and the climax are able to hold more meaning because they were the result of a culmination of numerous factors that were developed throughout the movie. Watching Jojo Rabbit was truly a journey, and I would recommend it for anyone who wants to see a newer perspective of Nazi Germany and an original, intriguing new coming-of-age story. Waititi may continue to be at the receiving end of some controversy, but this only further highlights the profound impact that comedy can have on a wider audience.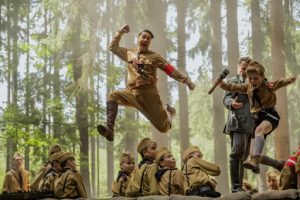 About the Writer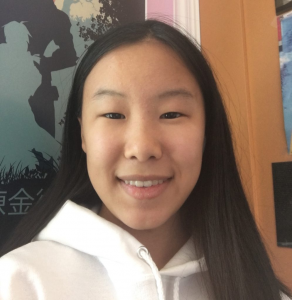 Alice Shu, Editor-in-Chief/Humor Editor
Alice (12) is excited to be Vol 29's co-EIC and co-Humor editor! This is her third year with the Voice and her second year as a Humor editor. In her spare time, she enjoys rewatching
Haikyuu!!
and dodging anime recommendations. To feed her crippling boba addiction she sells stickers to strangers on Etsy (spookystickershop). Find her on Instagram (@spookyalicee).