Irvington's Boys' Soccer Team Struggles Against Miramonte
The Irvington boys' varsity soccer team played Miramonte high school on saturday in harsh weather conditions including heavy winds and pouring rain. Led by co-captain, Abdelnur Hassnen (12), the team was able to score two goals. The Vikings were defeated 8-2 by Miramonte but this was due to the weather conditions, lack of communication among players, and a team consisting mainly of physically smaller players.
Goalie Zayaan Khan (10) describes the severity of the rain and how it affected the players' ability to play.
"It was pouring rain and I could barely see and my gloves were super wet. They were soaked and I could squeeze my gloves and water would pour out. There were also a lot of puddles on the field so even if you kicked the ball, it would only travel a couple of feet."
One memorable goal was made by co-captain, Abdelnur Hassen. Alexis Preciado (9) perfectly placed the ball in front of the goal from the corner kick and Hassen was able to header the ball inside the goal.
"I scored my first header in varsity soccer so that was pretty memorable for me," stated Hassen who scored both goals this game.
Miramonte's team was able to easily dribble past the Vikings because the team consists of mainly underclassmen who are physically smaller. Kevin Xu (12) also mentioned that Irvington's team was testing out new positions during pre-season so they could figure out the best plays for when the season starts.
"We were testing out new positions that day and Miramonte teams have players who are much bigger," said Xu . "This year, a lot of our team consists of freshmen so they are physically smaller and easier to get by."
A major issue noticed by many players was the gap between the Viking's defense and midfield. Winger Adan Farah (11) sat on the sideline due to his injury but noticed the gap and suggested that it led to many goals being scored by Miramonte.
"The midfield has trouble dropping back to support the defense so we place four players in the back, and a lot of times it would be those four against the entire opposing team."
Although the Irvington boys soccer team has been struggling during the pre-season, they are certain they will be able to figure out better game plays and perform well during the real season.
"We need to forget this game and keep working hard in practice. We have a team with many younger classmen so we are all trying to get to know each other and do better." revealed Hassen who believes the team will grow and improve. The boys will play their next game against American on January 8th at TAK.
About the Writer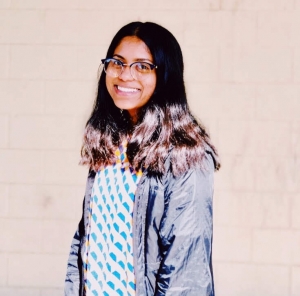 Anushka Nair, Humans of Irvington High Editor
Anushka (11) is thrilled to be HOIH Editor along with Rachel this year! She joined the Voice her sophomore year because she wanted to write about events on campus and enjoyed interviewing the diverse student body at Irvington. In her free time, Anushka spends countless hours scrolling through tik tok and watching
Hell's Kitchen.
She can't wait to make the most of volume 29!