Families at Irvington: ITA: Thamizarasu Sankarasubramanian
When Thamizarasu "Tamil" Sankarasubramanian joined ITA, he had some knowledge about coding and website-building, but wasn't as knowledgeable as some of his classmates. After being helped by Mr.Albizo, he's one of his top students and even participates in cybersecurity competitions.
"If you're interested in ITA, I would recommend to study courses before you get to high- school or ITA because when I was in ITA, I was not prepared and I was not doing that well in the class until I asked Albizo for two weeks of help," Tamil recounts.
Through Mr.Albizo's help,Tamil is able to help his classmates as well. Classmates who have trouble with an assignment often ask Tamil for help, and Tamil observes that they understand the material better when a student explains it to them. Tamil took Computer Support freshman year, Cyber Security last year, and is taking Intro to Engineering this year. There are several ITA courses that serve different interests, and within each class there are people of different skill levels.
"My friend is really smart and he knows a bunch of stuff, but I'm on the other side: I didn't know that much. Some people might be in the middle. There are different places people come from; it's not that they come from the same skill point…There are some types of classes that Albizo helps with one-on-one based on their skill to help them understand more. Like he talked to me one-on-one on class whenever I needed class and that helped me understand what I'm learning now."
When Mr.Albizo introduced him to CyberPatriot, a competition to test one's cybersecurity skills, Tamil was motivated to compete. In the competition, groups must defend a virtual image, defend the network, and remove vulnerabilities; the goal is to remove the most vulnerabilities as possible. He hopes that CyberPatriot can help him in his career, hopefully in internet security at Cisco.
CyberPatriot isn't the only way that ITA exposes its students to the world of technology. One fun part ITA is the field trips that students go on: past trips include Amazon and San Jose State. Seeing the San Jose State's facilities made Tamil realize how different high school technology is to college technology. He finds that the field trips helps people learn about technology better.
"Some people don't want to see the words, like most people don't want to read because they're not into it. That's like me, I don't want to read that much. But when you go to field trips it's fun and you'll understand and learn something."
While ITA as an academy has a specific focus on technology, Tamil encourages others to increase their knowledge about technology, especially in the current age of rapid technological advancement. Because [technology]'s been improving so much and people could just be doing random stuff, like if there's a virus detected, what would you do? You can ask a person what to do, and they'll say all this stuff but you won't understand it. To understand it, you are lucky to have a technology-based courses at school that can help you understand what you can do by yourself instead of going to that person in the first place."
Although he already had an interest in technology before joining ITA, he originally planned on joining SHAPE instead before his father recommended him to take ITA. Not only did ITA serve as a way for Tamil to learn new things, but it also allowed him to meet new people and become more familiar to the community, as he was new to the area when he joined ITA. He appreciates all the support exchanged within the family, and all the teamwork involved to accomplish their goals.
"I would really thank ITA for that because it helped me get the start to where I want to get. At Cisco you have a lot more than what you get right here and the thing is you're only taking the courses from the company in high school so you'll get a kickstart; you'll already know what's going on for the future."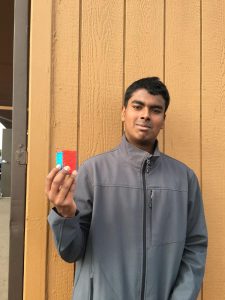 About the Contributor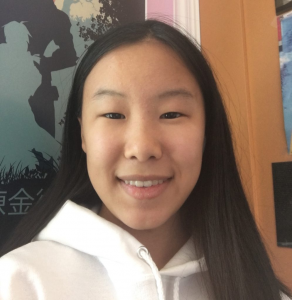 Alice Shu, Editor-in-Chief/Humor Editor
Alice (12) is excited to be Vol 29's co-EIC and co-Humor editor! This is her third year with the Voice and her second year as a Humor editor. In her spare time, she enjoys rewatching
Haikyuu!!
and dodging anime recommendations. To feed her crippling boba addiction she sells stickers to strangers on Etsy (spookystickershop). Find her on Instagram (@spookyalicee).