Mardi Gras
Mardi Gras, a Christian holiday celebrated in countries around the world such as France or Germany, dates back to the pagan days of celebrating spring and fertility. It is traditionally celebrated on the Tuesday before Ash Wednesday- a holy day of prayer and fasting- and the fasting of the Lenten season. The idea of Mardi Gras is based around feasting and having a big party before the long fasting period starts. It's also to celebrate the end of winter, and welcome a new season. This year Mardi Gras is on February 25th.
Though Mardi Gras is traditionally a religious holiday, Amandine Vardhan (12) and her family have a unique way of celebrating this holiday.
"Mardi Gras is considered a religious holiday, but my family is atheist so there's many ways to celebrate it," said Vardhan. "For us, we kind of honor that idea to have a big party, invite a lot of people over and spend time with them, because usually we won't get to see them until the end of April for Easter."
Vardhan talks about what makes Mardi Gras so special as she says, "The food we make is very specific. You have to pick a theme to make the food in, because it's supposed to be reminiscent of big costume parties."
Vardhan recalls her most memorable moments from when she celebrated Mardi Gras saying, "Last year we did a big Creole themed dinner at my house and my mom had just gotten back from New Orleans so she brought back a lot of Beignet mixes and a lot of different spices and stuff, so we tried to make food that we had never made before and it turned out really nice."
To start off Mardi Gras, in the beginning of January, Vardhan like other families make a cake called Galette Des Rios which is made with puff pastry and frangipane. Then the family hides a ceramic ornament called a Feves in the cake. Traditionally the youngest in the family goes under the table and chooses which piece goes to which person. Whoever finds the ceramic ornament gets to be "king" of the house.
"The king gets to do whatever they want, they don't have to do any chores. I mean it's different for every family like they always do special things," said Vardhan. "For us it's you don't have to do any chores around the house for a week and that day you just celebrate and get gifts usually."
Since Vardhan is also president of Irvington's French Connection club, she celebrates Mardi Gras at school and at home with her family.
"It's been a part of our tradition to celebrate at school too," Vardhan said. "When my sister and I were in elementary school and in kindergarten, we would come here [to Irvington] for the day to celebrate with the students, so it's always been special to me. But at home we do a huge dinner with a theme."
The idea of Mardi Gras is very similar to that of Christmas. The goal is to spend time with family, have good food and celebrate the end of winter and the light of the next season.
About the Writer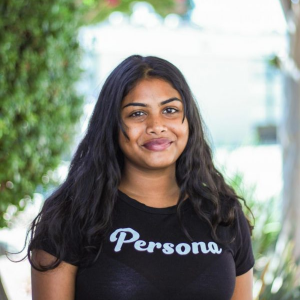 Sanjana Gudivada, Photo Editor
Sanjana is a senior who is the photo editor for The Voice. In her free time she grinds for college apps and the SAT and works out whenever she feels like it. Her daily diet involves boba or homemade Indian food, nothing in between.