Tpumps is T-riffic!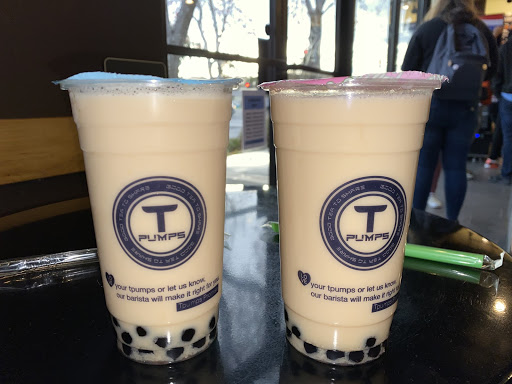 Tpumps, a popular boba chain, opened the doors of their new Fremont location, just minutes away from Irvington High School, on Nov. 12. With so many different boba places in the area that all serve essentially the same thing, the opening of Tpumps was very exciting, especially due to their low prices, innovative menu, and extremely accessible location from the school.
Tpumps' drink concept is innovative because of its option to combine different flavors and toppings, both fruity and decadent, to create personalized milk and fruit teas. The location's sleek aesthetic and inviting ambiance, in addition to the general cleanliness of the location, contributed greatly to its welcoming feel. They have multiple places to sit and nice music in the background— all vital factors of a great place to study and work. Usually, there is a very long line that wraps around the corner, especially since the location is still new and fresh. The employees also made sure to let us know that if we were not satisfied with our drinks, they would remake it according to how we wanted it. This was very appealing as I do not know of any other bubble tea shop that follows this policy. Their taste options range from fruity flavors such as strawberry, mango, and blueberry to sweeter flavors such as caramel, chocolate, taro, matcha and many more. They also have free samples, with some available near the checkout counter and some handed out by an employee while the customers were waiting in line.
On Monday I ordered the sample that was being handed out that day: peach passion rose black tea. I chose to add milk to it, and also added boba as a topping. Overall it cost $3.50 for the "small" 24-ounce size. I felt that their small size is comparable to the large sizes of most boba places such as local favorites, Factory Tea Bar and iTea, so the cost of the drink in accordance with the size is very appealing. Their large size, at 32 ounces, is even bigger than that offered by most franchises, including Boba Guys, Treetop, and T4. The large is also less expensive than almost all of those places, coming to a final price of $4.50. At first, the idea of mixing these different flavors sounded very unappealing to me; however, I enjoyed the combination of flavors very much, which surprised me because I was afraid I would taste each flavor separately. The three flavors complement each other very well, even after I had added the milk. In addition, their use of syrups just added extra sweetness to the already very sugary drink. Personally, I enjoy sweet drinks, so I did not mind the extra sugar; however, for someone who does not have as much of a sweet tooth, Tpumps' drinks may be too saccharine for their taste.
Overall, Tpumps is a great place to go if you are craving some good boba and have a sweet tooth. Their interesting menu and satisfactory customer service are very attractive, and the overall ambiance is perfect for the average teenager. Although their drinks might be a little too sweet for some, adjusting the ice, sugar, and flavor combination can easily fix this. Since their customer service is well organized, you can also ask the employees for recommendations if you don't want an overly sweet drink. If you are looking for a low-cost drink to help unwind after a long day, Tpumps is the place for you!