Irvington Girls' Basketball ends a Successful season
The Viking varsity girls' basketball team ended the past season with an overall record of 13-13, and a league record of 5-9. The team was relatively young, with many juniors and sophomores that had been bumped up from junior varsity.
The team experienced many highlights throughout the season, one example of which is the Buena Park tournament in Southern California. It was one of the few tournaments that the team had participated in recently, and it was the first in which the team had won all three games. To qualify for the tournament, a team must be at least 0.500 in the current season and at the top of their league.
However, the team had their fair share of challenges as well. Team captain Tracey Du (12) admits that they aren't the tallest team in the league, having to rely on strength and agility to be successful. Additionally, she notes that the team had just switched coaches a few seasons prior, so they were still testing out new systems to implement in practices. "We're a younger team," says Du, "but that also meant that we had a lot of energy, which is a good thing." Another thing that the team struggled with was staying optimistic: "I think we just need to remember to push through and push each other up," said captain Kaitlyn Kodama (12).
Additionally, there were specific games, such as the Newark game in January, in which Irvington did much better than originally expected, winning the game 66-53. They also had a very close game against American, who was undefeated in league.
"We always hope that we do well," says Kodama, "but we didn't anticipate that level of success." One difference that the players noted during these games was that the bench was louder, more supportive- which had an impact on the players in the game. Most players feel more supported when the players from the bench are louder, which makes them play better.
This basketball season was relatively successful for the team, with an equal number of wins and losses. This was, infact, the main goal for team captain Tracey Du. The number of wins and losses were distributed evenly throughout the season, and team captains believed that they were able to achieve their main goal of promoting more unity and cohesiveness through the team's members.
About the Writer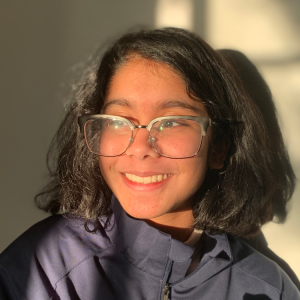 Geetika Mahajan, Humor Editor
Geetika (11) is this year's humor editor, which she owes to obsessively watching SNL as a middle schooler. Her hobbies include baking cakes at one AM, watching sitcoms, and befriending stray cats. In her free time, she can be found scrolling through zillow and apartments.com, getting emotionally attached to studios & lofts in New York City.