Folklore: Swift's Finest Feature Yet
Taylor Swift has been known for using events and feelings that she has been through as inspiration for her music, and her eighth studio album Folklore, which debuted on July 24, 2020, is no exception. Within twenty-four hours, it was ranked first on Billboard's latest album chart, giving Swift her seventh consecutive number one album in the United States. Folklore also holds the title of the largest sales in a week for an album this year, and has been the most discussed album of 2020. Folklore certainly lives up to the hype, with almost every song in the album meeting, and perhaps even exceeding, the high standards fans have for the esteemed musician.
To many's disbelief, Folklore was written and produced within a mere four months. Many fans were curious about what Swift was doing during quarantine, until she posted on her social media saying, "In isolation, my imagination has run wild and this album is the result, a collection of songs and stories that flowed like a stream of consciousness. Picking up a pen was my way of escaping into fantasy, history, and memory. I've told these stories to the best of my ability with all the love, wonder, and whimsy they deserve." Many fans were shocked as the shortest time between Taylor's album debuts was previously twenty-three months, yet Folklore debuted only 11 months after her last album, less than half the time. Swift also used a new style of release for her album, only writing a couple quick sentences about the album and dropping it.
As for the music itself, each song has its own specific meaning and theme which allows those who have gone through similar experiences to relate wholly. The album highlights Swift's personal growth and emotions, especially those she harbored during previous relationships. My favorite track of the album is "Invisible String," which tells the story of how she achieved happiness after realizing that her past mistakes and failed relationships made her the strong woman who she is today. The album has a myriad of deeper meanings and lyrical references that may never be interpreted by fans in the same way Taylor intended them to be, but perhaps that is the beauty of Folklore.
Folklore unites fans from pop, rock, and country music genres, so it comes with no doubt that the general consensus of the album is positive. Although combining genres was a smart move Swift made to attain a larger fanbase and appeal to multiple audiences, it does have its drawbacks. Many fans are speculating that the Grammy Awards, the biggest, most prestigious musical award event, will have difficulty placing Swift's album in a singular genre.
With every highly esteemed artist's album comes criticism, however, the negative feedback for Folklore is astoundingly scarce. Most complaints are regarding how the songs aren't as lively and upbeat as fans would like. However, considering the album created a genre of its own by combining pop, rock, and country, a lot of critics also argue the opposite, saying it's the first of its musical kind. Folklore received an 89/100 on Metacritic, with 25/27 critics rating it positively, and the other two critics rating it ambivalently.
Rating: 5.0/5.0
About the Contributor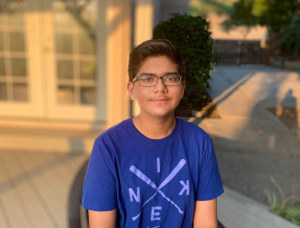 Suyash Lakhmani, Staff Writer
Suyash (10) is extremely excited to join The Voice and to be a Volume 29 staff writer! This is his first year with The Voice, and he hopes to become more involved in his school and to make amazing friends through it! When he isn't writing, you can find him reading mystery novels or playing video games.