IHS Synapsis: Sheep Brain Dissection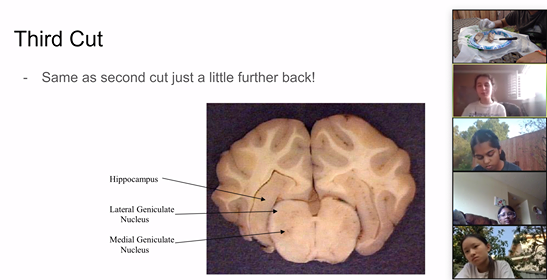 On Oct. 5th, IHS Synapsis, a club dedicated to expanding hands-on learning opportunities to students interested in the medical field, gave members an opportunity to dissect sheep brains virtually. Although officers have conducted several brain dissections in previous years, they had to alter the logistics of the dissection this time given that it was held over Zoom. Nonetheless, they were able to successfully organize an event that exposed many biology students to a new experience.
Prior to the dissection, the club officers preordered sheep brains and designed lessons for their members to use and refer to during the dissection. Then after communicating with Ms. Melsby, they designated a time and date for members to drive by Room 27 and pick up gloves and a sheep brain.
"We had to adapt to [distance learning] and show them exactly where to cut through Powerpoint slides and over Zoom. Normally, 2 people dissect 1 brain, but we had to buy each attendee their own brain this time," Co-president Darsh Singhania (12) said, "Unfortunately, a handful of people ghosted after signing up so the club took a hit because we over ordered brains as per the 1:1 ratio."
In an informational meeting before the dissection, Sissi Zhang (10), the club's curriculum intern, taught students about the parts of a brain. The Vice President of Curriculum, Cansu Oktem (12), had a more advanced discussion about drugs and addiction – which she spent two months planning.
Unlike previous years, where the officers would physically guide students through the dissection with multiple tools, they had to angle their cameras in a way that would allow members to follow their lead.
Although the officers supplied students with gloves, participants had to use their own cutting utensils, which left the actual dissecting a bit difficult to manage for some who had to improvise by using exacto knives. Others who had either purchased scalpels or had them lying around still felt an in-person dissection would've improved the learning experience.
"At one point I was poking at random parts of the brain so it would've been a lot easier with someone helping us out step by step," said Anika Mohan (9), "My mom was also a bit mad with the amount of gross sheep brain that was all over the table, but ultimately, it was still worth it."
Although the turnout rate was half of previous years, this dissection proved to be an exciting opportunity to turn theory into practice for many new members.
"I liked looking at the arbor vitae which is Latin for 'tree of life,'" described Ananya Thota (10) when asked about her favorite part of the dissection, "It's made up of nerves, and the big nerves were very visible hich I thought was super cool."
This hands-on experience enhanced the participants' understanding of the brain's structure and functions. IHS Synapsis is planning on holding a similar heart dissection later on in the year, and officers are hoping social distancing guidelines ease so it can happen in-person. However, if pandemic conditions remain, the club plans to publicize more and alter registration deadlines so that losses are not incurred again due to members registering and not showing up.
Although this dissection was done during quarantine, IHS Synapsis succeeded in making it an invaluable experience for students who were looking forward to exploring their interests in a practical manner.
About the Writer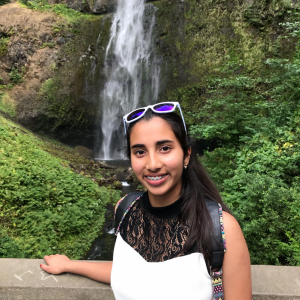 Shivangi Gupta, Entertainment Editor
A rising senior at Irvington, Shivangi (12) is thrilled to be the co-entertainment editor alongside her friend Kritika Sachar (12) in her second  year at
The Voice
. Having an addiction to cheesy romcoms and free-form dancing, the arts and anything creative (or bizarrely unique) catch her eye. She loves food and considers herself a self-proclaimed "broke-but-still-a-foodie" kinda girl.  Definitely reach out to her on Instagram (@shivangig24) or snapchat (@shivangig24) since she loves meeting new people and making worthwhile friends!