Campus COVID Cases, and what IHS is doing to prevent the spread
On Jan. 24th, FUSD staff received an email notifying them that undisclosed FUSD staff members had contracted COVID-19. A later follow-up email alerted them that the individuals were staff members at Irvington High School and that staff or students on campus specifically during the dates of 1/13-15 were at risk of potential exposure. However, students did not receive a similar email, and are continuing to conduct book pickups on campus as they have throughout the school year.
Before quarantine, typically with contagious diseases, the school district is informed first by the Alameda County Public Health Department, but sometimes by the case itself with confirmation from ACPHD. However, this procedure has changed since lockdown.
"With COVID, we are only alerted by the cases themselves/families," said Brian Killgore, public information officer of Fremont., "Public health departments are far too overwhelmed currently."
The protocol for notifying staff if there's a positive case on campus comes through the district office, the school itself, and the district nurse, who is the COVID liaison. The district nurse plays a huge role in getting information about a case, going through contract tracing and alerting staff as needed. According to Principal Amanda Melsby, the majority of precautions haven't changed since the new cases, other than extra sanitation in areas where previous cases were detected.
"I still feel like the precautions that the district is taking and that we take at school are very sound," stated Principal Melsby. "We wear masks, and if we are not wearing a mask, then we make sure our room is closed."
Campus life has remained consistent during the school year. Melsby established that there are around 20 staff members on campus for any given day. If any room is used, teachers are given a placard to place upon the door. When the custodial crew arrives on campus at night, it is easy to identify rooms which need extra sanitation. Additionally, custodians are given maps for rooms which are used daily by teachers, ensuring those are cleaned and sanitized daily. Along with the PPE materials distributed to campus from the district, these procedures ensure a safe Irvington High. 
The district is implementing a wide variety of measures to guarantee that the spread of the virus is halted; they also have numerous measures in place to keep staff and students from contracting the virus in the first place, such as making sure that everyone on campus is wearing a mask while in contact with other staff members and thoroughly sanitizing rooms that had been occupied. Additionally, they are keeping in contact with the several individuals who contracted COVID-19 and further instructions have been issued to them, addressing isolation protocol to prevent the virus from spreading through the campus.
About the Contributors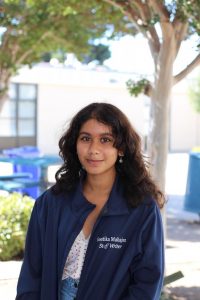 Geetika Mahajan, Humor Editor & Editor in Chief
Geetika (12) is this year's humor editor and editor-in-chief. Her hobbies include baking cakes at one AM and befriending stray cats. In her free time, she can be found scrolling through Zillow and apartments.com, getting emotionally attached to studios & lofts in New York City.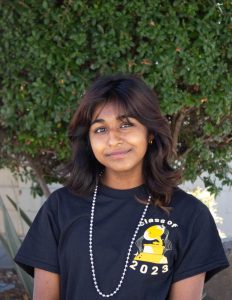 Urmi Mandal, Features Editor
Urmi Mandal (12) is excited for her third and last year at the Irvington Voice. She's been the feature's editor for the past two years. In her free time, she enjoys reading historical fiction and watching period dramas.