Local Student in Romantic Relationship with Zoom Leave Meeting Button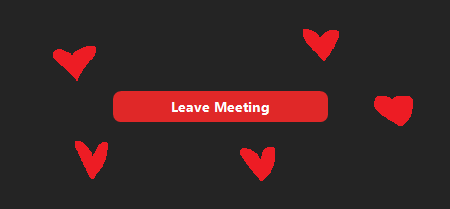 My name is Arthur Feng and I'm an Irvington sophomore who is in a romantic relationship with the Zoom Leave Meeting button. Yes, you read that correctly.
I moved here my freshman year just as the pandemic was getting started. I was pretty bored at the time; I didn't have anyone to hang out with, so I just sort of lurked on the internet for a long time, browsing Reddit and Youtube and other platforms. If I had to be honest, I don't really have any friends, but I never had the opportunity to make any, so you can't blame me.
I first met Zoom Leave Meeting Button at this online socratic my freshman English teacher decided to hold before the end of the school year. At that time, you could have called me as something of a tech whiz; if you check my Steam account, I've logged in a cumulative 4300 hours on multiple games. So you can trust me when I say that I'm experienced with the typical UI/UX designs. But this was different because I noticed the beautifully simplistic design of the exit button. It was vibrant, curved, and attractive, which are all qualities I look for in a date. I first dismissed it as "just cute" because I never anticipated that I would be using Zoom regularly for classes.
When my sophomore year started, I was forced to meet the Zoom Leave Meeting Button regularly. We didn't instantly hit it off; it started off platonic. I thought, "Why not? I use the button a lot, and might as well make a new friend." I would eat lunch at my laptop and open up Zoom to chat with her, and other things like that. Our conversations went into really deep territory since she was so receptive to everything I said. I could talk about things that other people would find weird, and I felt like someone was finally listening.
I realized that I was attracted to Zoom Leave Meeting Button when I noticed that I would think about her long after class had ended. I just couldn't get her off my mind. I didn't want to admit that I had feelings for her that went beyond friendship. Eventually, I came to terms with my own feelings and accepted the fact that I had become infatuated. Around two months into our daily conversations, I mustered up the courage to ask her out. She was surprisingly receptive to my request. Now, we've been dating for about five months.
We hang out a lot more now. Sometimes I'll stroke the bottom right corner of my computer because it makes her feel better, and I can see her glow the slightest redder. My goodness, she is so cute. I designed a body pillow with a Zoom Leave Meeting Button and ordered it a few days ago. I can't wait to receive it.
The biggest lesson that I learned from my relationship with Zoom Leave Meeting Button is that you don't really need friends, you just need someone or something that you care about because they will always reciprocate that love.