Class of 2021's Pathways to Success: Iysiis Pinaire, University of East London
After high school, I'm planning on working and then going to the University of East London's fine arts program.
The application process was actually really easy. I found it through Common App, and the reason why I decided to apply to that school was I felt like I needed a new start. The Bay Area is cool, but I wanted to broaden my horizons and take a chance on something new. I didn't even think I was going to get in, to be honest. So when I got my acceptance email, it was a bit of a surprise because I totally forgot that I applied. I was like, wow, this is so exciting.
I actually don't know anybody that's going there. So I'm going to be a stranger in a new place, but I'm not too worried about the culture shock because growing up, both my mom and my grandmother both used to live in London. They used to tell me stuff about London all the time, so I kind of know what to expect.
Honestly, what I'm looking forward to the most is meeting new people, because I love to meet new people, and learning new customs, because it's a different country. Everything's going to be completely different, like the way people talk, the way people eat, and how people interact with each other. Adjusting will be a challenge, but I feel like once I get the hang of it, it's going to be secondhand nature to me. I'm really excited for it.
I've never been to London. I've never even left the country before, so this is a really big step for me. I'm going to be going two weeks before, so I can kind of get used to it and adjust.
Something definitely I'm going to miss is my friends, because I have lived in the Bay Area since 2017. I didn't even grow up here, but it almost feels as if I did. I'm definitely going to miss the people I met.
Because I'm originally from Texas, coming to the Bay Area was another culture shock. The schools are completely different, the people are so different, the culture is so different. Honestly, I feel like moving to California did kind of prepare me because I adjusted very quickly. But it's going to be different, because that's just state to state. You hear things about California all the time in Texas, so it was almost like I knew what to expect. I know a little bit about London and England, but it's going to be really different.
I feel like Irvington has prepared me for college. Irvington is a tough school when it comes to academics, and the way that the school in London is set up there, they're not so strict. So I feel like it's going to keep me on top of things.
Honestly, I have no idea what my plans are ten years from now. Right now, I'm just going with the flow. It's going to sound a little silly, but I don't like to make plans. I like to be surprised.
If anyone is overwhelmed by the application process, the best advice I can give is emailing or setting up a meeting with the counselor to the school that they're interested in because they can answer all the questions that they have, it is really helpful. For anyone moving far away, there are no words that can really prepare anybody for that. It's something you have to come to terms with yourself. If this is something you really want to do, you just have to go for it, because later on, you don't want to live life with regrets. You don't want to think back 10 years later: "I really had this opportunity, and then I wasted it." So honestly, if you want to go for something, just go for it.
About the Contributor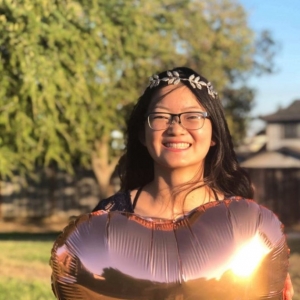 Serena Yeh, Features Editor
Serena (12) is a Features Editor in her second year with the Voice. When she's not contemplating the meaning of life, she's probably playing Animal Crossing or planning service events. She also likes crafting and would genuinely love to go back to school, so please wear a mask :)