Season Recap: Girls' Water Polo
Despite an unpredictable and difficult year, Irvington's girls' varsity water polo team ended their season with 3-3. Different from previous years in which the water polo season started in the fall, the season started in mid-April and ended in early June.
While not reflected in the record, this season was a success as the team learned to adapt to the obstacles that accompanied the pandemic, such as not being able to work out in the weight room or use equipment at first. However, the pandemic didn't dampen the morale and spirit of the girls.
"I don't think COVID affected team building in a negative way," Outside Shooter Peyton Schmitz (12) said. "In fact it might have made us closer since we were mainly the only people we were seeing every day in person. I could call everyone on the team a friend."
However, another player, Amber Gobel (12) mentioned that unlike other seasons, the boys' team could not come and support the girls' team at water polo games and vice versa this year. Training was also not as effective since practices were held for a week before games started, and in the past, the girls could work out in the weight room and have two practices a day to prepare themselves for the games.
In light of such differences, the girls this season focused a lot more on conditioning. Schmitz claimed, "Focusing on conditioning was very important especially because most of us didn't have the opportunity to swim over the long break we had. In such a short season, the training we received was effective, and every single one of us improved immensely throughout the season."
Furthermore, to account for necessary safety protocols, both the boys' and girls' water polo teams were required to go through a screening process that involves checking each players' temperature at each practice. The practices occur at Mission High School from 6-9 pm, and according to Schmitz, a majority of the players on both teams were fully vaccinated soon after the season started so players felt comfortable and safe being in the water in full-contact practices.
Overall, the team played a total of seven games and four scrimmages, two against Logan High School, and two against Newark Memorial High School. Schmitz added that the scrimmage matches were super beneficial to the team's overall skill as they gave them opportunities to practice in extra matches. In regards to the seasons' game, Schmitz stated, "The most notable game for us was against Logan where, despite losing, we played great and all of our hard work during practices really showed."
As a team, the girls were able to fill in new roles and positions that would improve their overall gameplay. Several of the players were on JV last year but performed exceptionally well in Varsity-level games this year. Other experienced players have also expanded their area of expertise; Schmitz, who has been the main shooter on the team, vastly improved her defense. Even virtually on the group chat, the girls kept the banter lively and connected with each other in personable ways, creating a cheerful and supportive atmosphere.
Schmitz, who is sad to leave the team she's played for for four years, has high hopes for next year's team. "Sadly, more than half of our team are seniors this year so we will be leaving the underclassmen to create a new team. I have a lot of faith in those girls though and I think they're going to do great next year no matter what happens."
About the Writer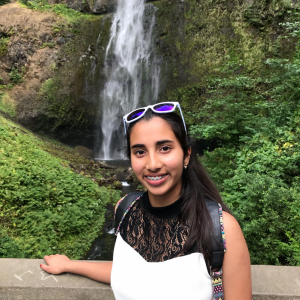 Shivangi Gupta, Entertainment Editor
A rising senior at Irvington, Shivangi (12) is thrilled to be the co-entertainment editor alongside her friend Kritika Sachar (12) in her second  year at
The Voice
. Having an addiction to cheesy romcoms and free-form dancing, the arts and anything creative (or bizarrely unique) catch her eye. She loves food and considers herself a self-proclaimed "broke-but-still-a-foodie" kinda girl.  Definitely reach out to her on Instagram (@shivangig24) or snapchat (@shivangig24) since she loves meeting new people and making worthwhile friends!