FUSD Transitions To Infinite Campus
On July 8, 2020, the Fremont Unified School District (FUSD) Board of Education voted unanimously to authorize a contract with Infinite Campus after several months of consideration. Infinite Campus, a student information system, replaced Illuminate after the latter discontinued their service in June 2021. Irvington High School began using Infinite Campus for grades and attendance during the 2021-22 school year, replacing School Loop along with Illuminate. A lack of training and the system's unfamiliar design created mixed reactions among Irvington staff.
To facilitate the transition from School Loop and Illuminate, each school chose a liaison to communicate with the rest of the district and Infinite Campus. Liaisons met once before the school year to learn about the system, and again during the school year to address additional questions.
Because Infinite Campus was incompatible with School Loop, which was used to enter and view grades, Infinite Campus took over School Loop's functions entirely. However, a variety of issues have arisen at Irvington. For example, graduation credits are categorized incorrectly on transcripts. In addition, Infinite Campus does not have a scaling option, which teachers can use to adjust the relative weight of an assignment. Instead, teachers need to scale assignments by hand, adding to their workloads. These issues are exacerbated by Infinite Campus's user interface, which according to Irvington Infinite Campus liaison Mr. Adam Anaya is "not very intuitive."
In addition, Infinite Campus's messaging system has created confusion for both teachers and students. Teachers cannot see previously sent messages, nor can they see who viewed their messages. Unlike School Loop, Infinite Campus does not allow teachers to send emails to students outside of their classes, making it difficult to announce school-wide events. When students do receive messages from teachers through FUSD Gmail, they cannot see the sender and are unable to reply.
Consequently, there has been a steep learning curve for staff, who need to become accustomed to a completely different system. According to Irvington Principal Mrs. Nathania Chaney-Aiello, typically, new teachers who are unfamiliar with a system are paired with teachers who are familiar with it for assistance. However, because Infinite Campus is new to all staff at Irvington, there is an all-around lack of knowledge.
To address this, Mr. Anaya has begun creating tutorial videos and sharing them with staff through Google Drive. Videos cover topics such as messaging, setting up gradebooks, and connecting to Google Classroom. For teachers who need additional help, Mr. Anaya meets with them one-on-one over Zoom or provides in-person assistance. He also holds office hours where teachers can drop in to ask questions. However, all of this is done on teachers' own time, adding to their workloads, and Infinite Campus itself has provided no training. Mr. Anaya also takes teacher concerns to district-wide meetings, where they are communicated to the technology department and Infinite Campus. At the moment, student concerns are a side issue, though the FUSD website provides tutorials and tech support for students and parents.
Infinite Campus does have several advantages. For example, it can be more thoroughly integrated with Google Classroom than School Loop, allowing for easier grade inputting. In addition, Infinite Campus can display students' service hours, and teachers can leave feedback on students' assignments using the note function. However, some staff are still unable to connect Infinite Campus to Google Classroom, and others feel that useful features are hidden behind a cumbersome interface.
For Irvington French teacher Dr. Fabienne Gurtz-Cayla, Infinite Campus is an additional burden on her already increased workload. She attended training on her own time, and spent time between periods learning how to use different features.
"[Infinite Campus has] taken away time where I could have spent more time with my family," said Dr. Gurtz-Cayla. "And I was instead spending time with my computer trying to figure out how this thing worked."
About the Contributor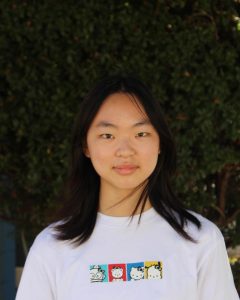 Helen Yuan, Opinions Editor
Helen Yuan (12) is excited to edit for Opinions in her second year at The Voice. She's looking forward to finishing her senior year and graduating. In her free time, Helen overanalyzes poetry and re-organizes her Google Drive folders.