If It's a Million To One, Cinderella Is Not The One
Fantasy musical Cinderella, written and directed by Kay Cannon of Pitch Perfect and starring singer Camila Cabello, puts a modern spin on a centuries-old fairytale. Instead of dreaming of love, main character Ella (Camila Cabello) dreams of owning a dress shop. Though the concept's execution is far from perfect, the film– released on streaming platforms September 3rd– isn't without a certain capitalist charm of its own.
In this star-studded remake of the classic fairytale, orphan Ella– left with her not-so-evil stepmother (Idina Menzel) and stepsisters– yearns to become a dressmaker but struggles to find clients. Meanwhile, Prince Robert (Nicholas Galitzine), under pressure to find a wife, invites every girl in the kingdom to a ball. True to the film's girlboss underpinnings, Ella decides to go to the ball to network for potential customers. After her plans are thwarted by her stepmother, fairy godperson Fab G (Billy Porter) makes an entrance and sends Ella off to the ball in a glamorous dress and carriage driven by three mice-turned-coach-drivers (among them James Corden). At the ball, Prince Robert– having fallen for Ella after a grand total of three interactions– begs her to marry him, but to no avail: for all her belting about how "love will save the day," Ella's business ambitions still come first. Though there are genuinely funny scenes, instances of almost-self-awareness, like when Ella's stepsister breathes "that's deep" in response to an overused platitude delivered by Ella, don't help matters.
Despite being a musical, Cinderella has very little original music. However, the film does feature several memorable mashups– like "Whatta Man/Seven Nation Army"– and covers– such as Idina Menzel's "Material Girl." The two original songs, "Dream Girl" by Idina Menzel and "Million to One" by Camila Cabello, are undeniably catchy. Colorful and saturated costumes and set design by Ellen Mirojnick and Kathryn Pyle, respectively, also contribute to the film's peppy atmosphere.
To its credit, Cinderella does make a half-baked attempt at diversity, resulting in some amusing moments— in one scene, a storefront in Ella's hometown has Chinese lettering on it despite there not being a single Chinese person in sight. However, the film's attempts at adding a feminist gloss to everything fall flat at times (not unlike Nicholas Galitzine's singing). Efforts at female empowerment in the dialogue feel forced and cliché, making the film's message shallow and unconvincing.
2021's Cinderella seems to resemble Ella's stepsisters: they're all dressed up on the outside, but closer inspection reveals little beneath the surface.
Rating: 5/10
About the Contributor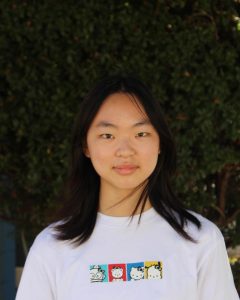 Helen Yuan, Opinions Editor
Helen Yuan (12) is excited to edit for Opinions in her second year at The Voice. She's looking forward to finishing her senior year and graduating. In her free time, Helen overanalyzes poetry and re-organizes her Google Drive folders.