Absent Teachers Raise Concerns Regarding COVID
As COVID cases continue to rise, the absence of teachers at Irvington High School have been raising concerns regarding student safety and education. On Aug. 18, the first day of school reopening, faculty were seen rushing around the school to help substitute for missing instructors. Although the reasons behind these absences are still unknown, the district has been rigorously monitoring COVID protocols to ensure the safety of the students.
According to Irvington Principal Nathania Chaney-Aiello, Fremont Unified School District (FUSD) has been strictly regulating safety protocols and even has a complete database that records all COVID cases across the district. However the FUSD Human Resources Department, which is in charge of hiring substitutes for the entire district and directed by Sherry Strausbaugh and Angela Bianchini, has had difficulty finding enough substitutes.
"Our biggest challenge right now across the district has just been finding people who are certificated and cleared […] to make sure that they're appropriate to be with high school students or any students," explained Mrs. Chaney-Aiello. "In prior times you might have said, 'I've got a little runny nose, I've got a little cough, not a big deal.' But now, any symptom means you cannot come to school. So that's part of the reason why you'll see a lot of teachers substituting for each other [during their] prep periods."
The absence of teachers in classrooms has clearly affected student engagement and education. Mr. Lee, an AP Chemistry and AP Physics teacher, has been absent for nearly a month, and the uncertainty brought by the lack of an instructor and disorganized course agenda has students worried .
"We didn't know what was going on until Ms. Koehler provided us with lesson plans and a few students who had AP Chemistry last year provided some lectures," said Ruiming Xu (11). "But even with [her] help, it [was still] difficult as there [wasn't a] teacher going over content in every class. We spend most of the time doing problems from the textbook, and it gets a little difficult and worrisome because we definitely aren't getting the full experience we should be from this class."
Though COVID concerns persist, Irvington High School plans on remaining with an in person learning system. The Alameda County Health Department claims that the city of Fremont is over 80% vaccinated and 90% partially vaccinated. On top of that, the schoolwide mask mandate has drastically decreased the potential for COVID transmission among students and staff. While Alameda has a 4% positivity rate, Irvington has less than 0.03% .
"I'm really happy to say that we haven't had any teachers test positive, and I hope it stays that way," said Mrs. Chaney-Aiello. "For everybody's sake. I feel like people are taking it seriously, and we just have to keep doing the good job."
About the Contributor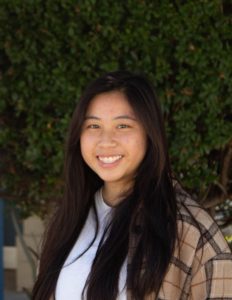 Rosalyn Weng, Opinions Editor
Rosalyn Weng (12) is the Opinions Editor for Volume 31 of the
Voice
. She's passionate about sharing her love for writing, editing, and filmmaking. She's most excited about finally being able to brutally destroy J1 kids' articles (lovingly). She apologizes in advance if she calls your writing "so bland that even Gordon Ramsay is quaking."