JV Girls' Volleyball Secures a Preseason Win
On Thursday, September 2nd, IHS Junior Varsity Girls' Volleyball won a preseason game against Fremont High School. Led by Team Captain Allison Greer (11), Irvington won the first set 25-14 and finished the game by securing the second set 25-17.
Starting off strong, the team's communication and teamwork allowed them to win the first set within less than half an hour. The second set followed quickly, and the game ended in around 45 minutes.
This game served as a big motivator for the team and set the precedent for the rest of the season. "From my own experience, I can tell you that having a winning season helps with the team's cooperation," says JV Coach Edgar Colocho. "The harmony between players becomes higher, which brings up the cooperation to a different level. There is happiness when you win, and when happiness is around, players want to do more things together."
JV's improved emphasis on communication set them apart in their victory against Fremont. "We really worked well on communication," Team Captain Greer comments. "Communication is something JV has been struggling with a lot."
Despite their improvement, the team still has a ways to go. "We missed a lot of serves in that game. It would help to get back to practicing and making sure we focus on repetition and proper technique," Greer adds. "I'll make sure they don't regress by being hard on them and focusing on proper technique and general team chemistry."
The team plans to use their setbacks to improve for the season ahead. "We can learn from the things that work, learn from the things that didn't work, balance them out, and play better next time," Colocho says.
This game was especially special in the fact that every player was able to play; an uncommon occurrence. "The most important part is that everyone got to play," says Greer.
"Players on the bench help day in and day out without getting a lot of recognition. They also have to come to practice every day," adds Colocho. "[…] and when they come to the games, they stand side-by-side with their teammates to cheer for the team."
"My goal is to inspire," says Coach Colocho. There is no doubt JV's win will inspire others.
About the Contributor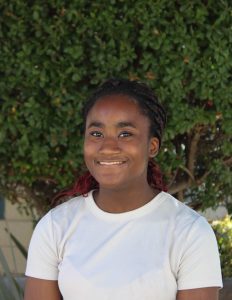 Mykal Mashack, Humor Editor
Mykal (12) is happy to be back for a third year at The Voice, this time as Humor Editor. Off the record, she likes pretending to be productive, writing, and reading. If she's not doing any of those things, she's trying not to get pulled over for her bad driving skills.