Stabbing Incident at Kennedy HS
On Tuesday, September 22nd, a stabbing incident between two juveniles occurred in the Sundale Shopping Center near Kennedy High School, in the back of Suju's Coffee Shop. According to the Fremont Police Department, the motive for the occurrence is unknown as of now. When the perpetrator was spotted heading towards Kennedy High School, the school was placed on lockdown for close to 45 minutes. The lockdown was lifted soon after lunch, but the event has imprinted itself onto the memories of many students, and some have been left fearing for their safety.
Around 12:50 PM on that Tuesday, police were called to the Sundale Shopping Center, 0.7 miles away from Kennedy. The victim was a sophomore at Kennedy High, and called the police soon after he was stabbed with a box cutter. The argument had originated in the back of Suju's Coffee shop, and soon after, the victim was stabbed with a box cutter, and the perpetrator fled the scene. A 17 year old was also arrested for brandishing a weapon at the incident. Police were reported arriving at the scene 46 seconds after the incident.The perpetrator was also arrested after the incident, and the victim emerged with no permanent injuries.
The trauma of the stabbing also affected students at Kennedy High School. According to Fox KTVU News, who interviewed Sajul Khan, a freshman at Kennedy High, Khan feels scared for the future after the event: "This is very local and right next to the school and the person goes to our school. I was scared."
The superintendent of FUSD, C.J. Cammack, according to KTVU, also commented on the event on behalf of FUSD: "This is an isolated incident that is not reflective of the climate, culture and care we are proud of at Kennedy High School."
In 2006, a similar event occurred in Kennedy, where the motive of the incident was gang-related violence. It is possible the motive is similar, because of the notoriety of gangs near the school. However, it is currently undeclared by the Fremont Police Department. The case is ongoing, and continuous investigation into the motive continues.
Source:
https://www.ktvu.com/news/16-year-old-arrested-for-attempted-homicide-of-fellow-student-in-fremont
About the Contributor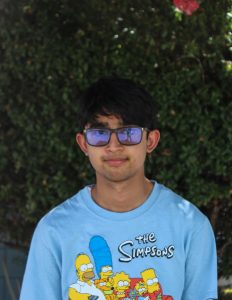 Ojas Vatsyayan, Sports Editor
Ojas Vatsyayan(11) is a second-year staff member of the Voice, this time as Sports Editor. He loves reading, listening to music, and playing tennis. If he's not doing those things, you'll probably find him outside doing something or the other. He wants to learn how to drive, but his mom won't let him. Oh, well.